THIS WEEK saw the installation in the office of the British Consul General of "War Poppy 1", a 2015 artwork by British artist Giles Revell.    
Consul General Michael Howells (pictured) remarked, "This is a beautiful work of art and an important reminder of the folly of war. I am honoured to give it a new home in the British Consulate General in Los Angeles."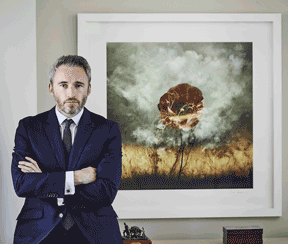 The installation coincides with Remembrance Day, also informally known as Poppy Day, a memorial day observed in Commonwealth of Nations member states since the end of the First World War to remember the members of their armed forces who have died in the line of duty.
On June 21, 2016 Revell's image Battlefield Poppy debuted as a Royal Mail 1st-class stamp, as part of a limited-edition series commemorating World War I. The image depicts a sole, pristine poppy standing against a bleak and murky landscape reminiscent of a warzone.
Of particular importance to the British, the poppy is a symbol of remembrance for members of armed forces who have died in the line of duty. Often called the "remembrance poppy," the flower rose to symbolic prominence shortly after WWI and the publication of "In Flanders Fields," a poem by Canadian doctor John McCrae. The poem noted the poppies that frequently grew by the thousands in the war-ravaged fields of Europe where little else could grow.
Revell was born in 1965 in Hertfordshire. He has had several solo shows in London, most notably at Michael Hoppen Gallery and The Yard Gallery. He has exhibited widely in group shows, and his work is part of the permanent national collection at the Natural History Museum and London's Victoria and Albert Museum. His work was featured locally at the Oculus Gallery in Los Angeles in the summer of 2016.