Meet Kate Norris from London who moved to LA three months ago to set up a new boutique floristry studio, Foxgloves & Folly.
Was there a particular reason you chose LA?
My partner Darren and I lived here for almost a year back in 2013/14. Darren is an actor/writer/director. I was a lawyer at the time but I knew I wanted to be doing something more creative so when Darren got the chance to work here, I took a sabbatical, primarily to figure out what I may want to do! When we went back to London, I did a floristry course at McQueens (an internationally renowned florists), which I loved. I went back to law full-time but I continued to work at McQueens on Saturdays for another two years or so. Darren and I both loved LA and wanted to come back, and I was ready to open up my own floristry business by then. After a bit of research, I realized I could pursue the investment visa option. It took a good year or so to get everything in place but eventually we got there and so here we are! From a floristry perspective too, I also felt that my style was something more unique here – we have a natural, loose, lush, slightly edgy style with lots of greenery and textures. I think this stands out more here when compared with some of the more traditional style of flower arrangements available here.
What do you miss most from home?
Family and friends without a doubt We've only been here for a little while but I know from past experience that I'll miss English pubs, the English countryside, cold and sunny autumn and winter mornings and the English sense of humour/wit!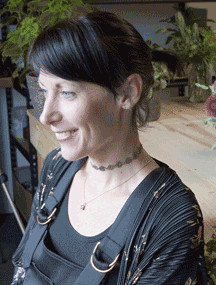 What was your first impression of LA and has it changed since? 
To be honest I wasn't sure if I'd like LA at all. Darren and I had spent a lot of time in New York, we spent most of our holidays there. We came to LA for the first time by chance really as we were going to San Francisco and decided to come by LA as a friend was living here at the time. My very first impression was probably of the buildings, particularly the little shopping malls which seemed to be everywhere, alongside every road – which I didn't like very much! We were here for just four days that time and we pretty much fell in love with the place – I love the different areas and communities, each has its own vibe, the climate, the landscapes and the overriding sense of optimism that people have here, you can change careers or do different things and nobody seems to bat an eyelid or say you're crazy! I like that. I don't really think LA has changed that much in the years I've been coming here save that it seems a little busier, some places are becoming more gentrified and everywhere seems a little more expensive, but I think that goes for London too to be honest.
What do you find the biggest difference is living here versus London?
Well I've gone from being a lawyer in London to running a floristry business in LA so, for me, the change is huge. People seem to work just as long hours over here though, but they seem a little happier on the whole. It's probably the sunshine!
Do you have a hidden gem in LA that you want to share with us?
When we first came here in 2013, we discovered the Hollywood Reservoir. It had been shut for some time I think and had only recently reopened. It is a beautiful place to go for a walk, it's so peaceful (and you get a great view of the sign from there too!). It has become busier now, it is still a great place to go but when we first went there, we were sometimes the only people there, which was great. I also love cycling down at the coast, on the bike path from Santa Monica to Hermosa (sometimes Redondo Beach which is a bit further on), it is a great way to clear your head!
What would you suggest to others who are thinking about making the move here? 
Don't think too much, do it! Obviously, you need to ensure you get all the necessary authorisations/ paperwork in place but thinking too much can lead to uncertainty and inaction. I love England but LA has so many opportunities. If someone has the urge to come out here, I would say do it. At the very least, it's an adventure and you can always go home again!
Lots of our members join our group Brits in LA seeking out words of wisdom – what is the best piece of advice you've been given? 
I'm still waiting for someone to tell me to get my teeth whitened! Seriously though, really just to explore the different areas and be open to meeting people from all over.
Lastly, how can we find out more about you? Are you working on anything at the moment?
I'm focusing now on trying to build up my business, we've been going for about six weeks now so it's early days still but we've got off to a good start with a fair few orders and we've also managed to secure a couple of corporate accounts already which is great. We are based in Hollywood and we have an on-line store (offering a range of flower bouquets, succulents and plants and pots, together with bespoke arrangements) and we also focus on corporate and home accounts, events (including parties, weddings, product launches, film and TV premieres, dinner parties, bridal and baby showers etc etc) and editorial styling/shoots. We will also offer workshops down the line. In fact, we're hoping to host one in February with McQueens when they come out to do the flowers for the Vanity Fair party for the Oscars so watch this space! Our website is www.foxglovesandfolly.com and we're on Instagram, our handle is @foxglovesandfolly.