Eddie Redmayne is about to become a dad – again!
The Fantastic Beasts and Where to Find Them actor, 35, and his wife of two years, Hannah, are having another baby… Oo-er!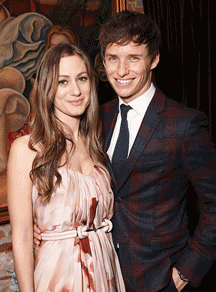 "Eddie and Hannah Redmayne are delighted to confirm they are expecting their second child," his rep told PEOPLE in a statement.
In June 2016, the couple welcomed a baby girl, Iris Mary, and since then, Eddie has been thrilled to talk about his love for fatherhood.
"There's this amazing thing with children ― whenever you're having a bit of a tired moment or something, it's like she's always just one stop ahead of you, smiling you along," he told Entertainment Tonight last year. "It's great."
While chatting with People in November, the actor said the morning is his favorite part of the day with his daughter.
"If Iris has managed to sleep through the night and then you hear a gentle squeak and you go in and turn on the light … and the massive grin that's like, 'It's a whole new day,'" he said. "That's probably the greatest thing."
The big announcement comes a little more than a month before Eddie, 35, and Hannah, 34, celebrate their third wedding anniversary.
They were married at Babington House in Somerset, England on 15 December 2014, with the couple just inviting "a small number of close family and friends" to their intimate wedding ceremony. Just two months later, Eddie would win Best Actor awards at both the Oscars and the BAFTAs for his portrayal of Stephen Hawking in The Theory of Everything.
Last month The Daily Mail shared new photos of the spouses attending an event in East London. Hannah's slight bump was under wraps in a black shirt, jeans and a knee-length navy coat.