Exclusive interview with author Michèle Roberts discussing her new novel about a Victorian house of ill-repute
By Gabrielle Pantera
"I had a waking reverie," says The Walworth Beauty author Michèle Roberts. "An image of a man walking upstairs in a dark house, previously unknown to him, following a young woman bearing a lit taper, up towards a closed doorway. It was the 19th century, I knew. I just had to follow him and find out what happened when he opened that door and entered that room…I had to write the novel."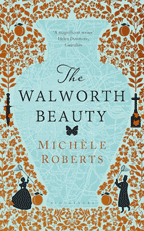 It's 1851 in Victorian England. Joseph Benson has been employed by Henry Mayhew to help research his articles. Joseph had lost his previous job due to illness, so this opportunity is a godsend. But his job is not exactly easy. He's interviewing prostitutes about their lives. In Apricot Place he meets Mrs. Dulcimer, who runs a boarding house. She's a wealth of information. Meanwhile, in 2011, Madeleine has lost her job and decides to move from London into the Walworth cul-de-sac of Apricot Place. She comes across the work of Henry Mayhew, who wrote about the area she now lives in. As she learns more, their two stories intertwine.
"I'm fascinated by how lost memories suddenly re-erupt into the present," says Roberts. "In literary terms, I'm fascinated by how past and present in a narrative can haunt each other and result in ghost stories. Ghost stories always work retrospectively: a troubling image is made sense of by becoming surrounded with a story. For me, the unconscious is always part of writing stories…what we want to say, what we forget, what we feel scared of telling. This can include questions around sex, desire, exploitation, power…all the ambiguities attending those."
"A second inspiration was moving flats, to southeast London, to an 1830s building," says Roberts. "Imagining the women who had worked in the basement that formed my flat, that had been the kitchen area."
In her research into the unrecorded lives of working-class women in 19th century London, Roberts re-read Mayhew's contemporaneous work on working-class people in London, London Labour and the London Poor.
     "In particular I re-read his Volume Four: Those That Will Not Work, which included his reports on the testimonies of young women selling sex in order to survive," says Roberts. "I read a great many secondary historical sources on 19th century life in London. I relied on 19th century novels. I looked at maps, for example, in the John Harvard Library in Borough, southeast London."
Roberts has written over 20 books. Her work includes novels, short stories, poetry, memoirs, artist's books, pamphlets, essays. She writes about literary journalism regularly. She's written for TV. She won the W.H. Smith Literary Award 1993 for Daughters of the House, which was also shortlisted for the Booker Prize 1993. Her first novel, A Piece of the Night, won the Gay News Book Award in 1978. Her short story collection, Mud: Stories of Sex and Love was shortlisted for the Edgehill Award. Her novel Ignorance was selected for the IMPAC Award and the Orange Prize.
Roberts memoir Parer Houses was a BBC Radio Book of the Week. Her novel Flesh and Blood was adapted for radio. The Walworth Beauty has yet to be optioned for film or TV.
Roberts says she's just started writing her next novel. She was born in Bushey, Hertfordshire and is now based in London. For more on the author visit micheleroberts.co.uk
The Walworth Beauty by Michèle Roberts. Hardcover, 400 pages. Bloomsbury Publishing. November 14, 2017. Language: English. ISBN-13: 978-1408883396 $28.00