Meet Karina Diglyte from Lithuania who moved to LA from London (where she lived for five years) before moving to LA two years ago to pursue and acting and comedy career.
Was there a particular reason you chose LA?
I loved living in London, it was a really great place to live, because of the culture and cosmopolitan lifestyle. But LA was always my dream – Sunny california, beautiful weather all year long and of course the land of movies, what more could I ask for?
What do you miss most from home?
I left Lithuania now more then 15 years ago. I was living between Paris and London but London became my home. I miss the walking and seeing different people on the streets from all around the world and bumping into people every day. I miss the British accent, British humor, the amazing theatre scene, the culture and my dear friends. I miss that living in Europe you have access to many other European countries without many hours of flying.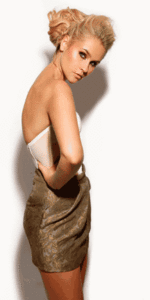 What was your first impression of LA and has it changed since?
When I was visiting LA for a few weeks, I thought it was the most healthy and positive town so I felt that I could really fit in. That changed when I moved out here. People seemed very isolated and not very open to new friendships, everyone is their own island, but now I have created quite a nice network of friends and creatives that I work with, so I feel much better and LA actually motivates me, so I am inspired to live here.
What do you find the biggest difference is living here versus London?
Nobody walks in LA:) so driving everywhere for me was the biggest difference, London has this great vibe, which is perfect for your social life, meeting lots of people, going to the theater, enjoying a glass of beer in the pub on sundays, that you will miss in LA, but LA has great hiking trails, beautiful weather and the ocean too. I also love that LA is so big, that every area has a completely different vibe, be it quirky Downtown, vibrant Hollywood and breezy Santa Monica, Malibu or Venice Beach. Every time you drive a few miles you feel like you're in a different city.
Do you have a hidden gem in LA that you want to share with us?
I love hiking and being in nature, so I happen to love Franklin Canyon Park for that, it has a cute lake with ducks and turtles, it's perfect for an easy walk and it has a few trails where you can get a good workout and see beautiful LA views.
What would you suggest to others who are thinking about making the move here?
I would suggest researching it really well; make sure you love driving (picking nice music would help). LA is getting very expensive so get ready for that too.
Lots of our members join our group Brits in LA seeking out words of wisdom – what is the best piece of advice you've been given?
Take your time, surround yourself with positive people who believe in you and inspire you to be a better person. Don't compare yourself to others. Follow your own path.
Lastly, how can we find out more about you? Are you working on anything at the moment?
I am a stand-up comedian and i am performing regularly at The Comedy Store (next show on November 24th) and other comedy clubs. Also recently I worked as an actress on the hilarious film "Stan the Man" due to release on Netflix and Hulu on Valentines Day. I also just finished working on a beautiful sentimental short film "Full Moon", directed by Yukihiro Shoda. The music for it was written and performed by Ryuichi Sakamoto.