British Consul-General Michael Howells spoke last week at a British-American Business Council meeting, outlining his previous career and what he hopes to bring to the job representing British interests in Southern california. Michael replaces Chris O'Connor.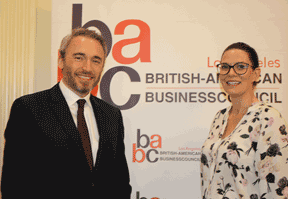 Michael has an academic background in Anthropology and International Law and prior to his government service he worked as a human rights lawyer and in the UK tech sector, supporting clients in the British entertainment industry.
From 2009-2013 Michael served at the British Embassy in Washington DC acting as the bridge between UK and US policy towards the Middle East. From 2013-2015 he oversaw British foreign policy towards Iran and for the past two years Michael served as Head of Near Eastern Affairs at the British Foreign Office responsible for UK policy towards Syria, Jordan, Lebanon, Israel, the OPT's and the Middle East Peace Process.
Michael gave a delightful speech on his extensive career and we believe he will be an asset to the British Community. Welcome to Los Angeles, Michael!
– Leo Lewis.