Exclusive interview with author Sasha Lane discussing her new novel about a thirty-something woman deciding what she wants in life
By Gabrielle Pantera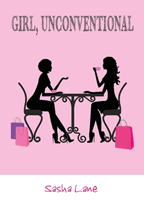 "I wanted to write about everyday women that readers could associate with," says Girl Unconventional author Sasha Lane. "And, in the era of people posting idyllic lifestyles on social media, I wanted to show that a not-so-perfect life was okay too. We perhaps all feel pressure to be doing certain things in our lives. I wanted a to write about a character that people could fall in love with as much as I have while writing about her."
Emma is 34 and trying to figure out her life. Emma's best friend Sophie is pregnant. Emma's in a relationship with Joe, but where is it really going? Will they get married? And what about children? Does she even want what used to be called the picture perfect life? The more she examines her life, the more she realizes she's not the only one who is feeling the pressure. Is she ready to do what is right for her?
Girl, Unconventional is third and final book in Lane's Girl trilogy. It follows Girl, Conflicted and Girl, Unhinged.
"I always wanted to write a trilogy," says Lane. "I hate it when you get attached to a character in a book and then it ends. It feels like you lost a friend. I wanted to show what happens after that last page. I guess I decided three was the right amount. I didn't want people to get bored with the character, plus I've shown what I wanted to with this character at the moment, although that's not to say that won't change in the future. I've had several requests from readers for a fourth book."
Lane says her life is her research. "My characters are influenced by my own life experience, plus television shows and films, and books that I've read, but the stories and the characters are completely fictional."
Charlie Wilson at The Book Specialist is Lane's editor.
"I have self-published, which has been an amazing journey for me," says Lane. "I love the fact that I get to create every aspect of my book, the title, the cover, and so on, and see my vision through from start to finish. It was very important to me to have physical books as well as ebooks. All of my books are available in paperback format as well as e-books."
Lane found The Book Specialist through research online.
"I was impressed with Charlie's CV and liked her approach to editing," says Lane. "She gave me the option to send through a short amount of my book for free to enable her to show me how she edits before I committed to sending the full book. Charlie gives detailed feedback and editing comments which encourage as well as develop me."
"I'm always delighted to meet authors like Sasha who are passionate about their work and professional in their approach," says Wilson. "When Sasha and I first began working together, we focused on finding the best-fit genre for her writing. She was open to suggestions and willing to challenge herself and to learn. Over time, as she has continued to write, I've admired her energy and her commitment. There is a sense of pride for an editor when a client blossoms as Sasha has and so enjoys her writing journey. Three books into Emma's story, and I've been rooting for this heroine all along. Really, Emma is an editor's dream: a heroine who is flawed but likeable, who is absolutely believable."
Lane is currently working on a crime novel in the chick-lit genre, a "girl turns detective" story rather than a traditional crime novel.
Lane is based in South Yorkshire, and has lived in Barnsley for seven years. She was born in Nottinghamshire in a small village outside Worksop. For more on the author, you can find her online at sashalane.com, and on Facebook, Twitter and Instagram at sashalaneauthor
Girl, Unconventional, Girl Series, by Sasha Lane. Kindle, File Size: 622 KB, Print Length: 264 pages Publisher: Sasha Lane, Publication Date: July 14, 2017, Sold by: Amazon Digital Services LLC, Language: English, ASIN: B073YD5FY9 $2.99 Also now available in paperback can be shipped to USA.