A COMMON LAMENT for many fans of Jane Austen is that the hugely influential writer only completed six novels, with her wit and wisdom leaving readers pining for more. Austen's work of course has spawned a cottage industry of spin offs, sequels and other more unlikely ventures…like the 2009 parody novel (and later film) Sense and Sensibility and Zombies.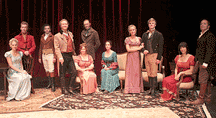 Local Austen fans will have a chance to commune with other-like minded folks at the Broad Stage this month with the debut of Jane Austen Unscripted, created by the Impro Theatre company. The show features a two-act drama in the style of a Jane Austen novel which the Los Angeles Times described as "a stunning feat of performance and literary wizardry."
The show gives audiences a chance to imagine the other books Austen might have written. The company starts with audience suggestions and deftly creates a world of love-struck girls, brooding noblemen and charming cads, and although hearts are sure to be broken, true love will win out in the end. The show runs from December 15-17th and tickets start at $45. For details visit thebroadstage.org.
The Impro's residency at the Broad will continue with five more months of unpredictable, improvised plays in the styles of Chekhov UnScripted (February 23 – 25), Twilight Zone UnScripted (March 16 – 18), Shakespeare UnScripted (April 20 – 22), Dorothy Parker UnScripted (May 18 – 20) and Tennessee Williams UnScripted (June 15 – 17).