Greetings Breeps!
We are SO excited about this year's holiday party in collaboration with Bordo at NYLA on Melrose. Bordo is a chic made-to-order men's brand and this year's theme is a Warholian Factory Party in their 1960's art space celebrating art in Los Angeles. Renowned British artist Katie Brightside will be creating an in-house instillation in collaboration with our guests. We will also have some fantastic photographers milling around and ample photo opportunities.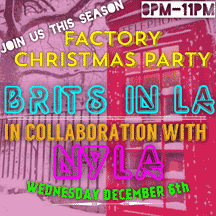 The fun kicks off at 8pm on Wednesday, December 6th. Tickets are available HERE . Thankfully will have some wonderful British food and beer from those fine folks at Yorkshire Square Brewery on tap as well as wine and cocktails provided by Jonathan Ratter of Cocktails for Cures. And thanks to our kind friends at Air New Zealand we will be auctioning off two round-trip economy tickets to London on the night (Certain restrictions and blackout dates may apply). All of this is made possible courtesy of our wonderful sponsor Beltran Brito Immigration Attorneys.
Speaking of… 
Have you ever wondered the interview is like to become a U.S. citizen? More and more Brits in LA members are biting the bullet and going for it. Quiz master Sandro Monetti become one last week and Eileen and I have been fully-fledged Americans for five or six years now. But we wondered with the current administration what it's like today, so we asked one of wonderful longtime members to tell us about his experience.
Marc Conneely has been a member of Brits in LA since he moved from London back in 2010. Marc is an entrepreneur; he launched MTV worldwide, becoming President, MTV China and now runs Maroxx Luxury Lifestyle Products (www.maroxx.com), which is perfect for Christmas gifts.
Here is his story:
"Under US immigration rules a green card holder can apply for US citizenship after five years of living in the States. I knew it would once again require a 'bowling ball' of paperwork, references, background checks and biometrics. It would also call for face-to-face interviews, culminating in a US Nationalisation interview where the applicant would be grilled on US history, politics, etc. I almost gave up – I love California and the US, but under the Trump administration and his obtuse views on immigration, I would feel a whole lot better if I was a citizen, so I stayed with it.
I was also relieved to discover, if successful, I would not have to surrender my UK or Irish passports.
I got the date for the Nationalization interview two months ago; it was to take place at Noon, Tuesday, Nov 7, 2017, at the Federal Building, downtown, Los Angeles.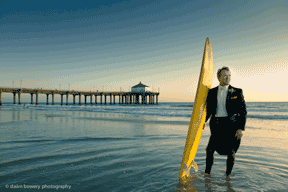 Over the nine weeks leading up to the interview, I went to bed with Thomas Jefferson, Susan B. Anthony, Woodrow Wilson, Alexander Hamilton, Franklin Roosevelt and dozens more.
I was very nervous on the day and felt quite a bit of 'Irish immigrant history.' Of course, it was nowhere near as horrifying as Ellis Island, in Upper New York Bay, when over 12 million immigrants moved to the United States for sixty years between, 1892 until 1954. I certainly thought of the times when my six siblings and I joked with my dad that he should never have got off that boat at Hull to spend 'one night with his cousin' in Huddersfield, but ending up staying 50 years; he should have sailed all the way to Massachusetts.
I took a local attorney with me who turned out to be much more anxious than me. Although American born, she was of Korean descent and seen far too many people fail the final hurdle – the nationalization interview. The grey Federal Building is next to an over-night/short stay prison, full of armed sub-machine gun carrying guards, just an unpleasant, scary place; you'd never see it recommended as a rendezvous for a match.com first date.
We had to sit in a large waiting room for over two hours with what seemed like a 'representative' of every nation under the sun. Many left in tears and told to re-apply, one poor soul was hand-cuffed, and no doubt detained, 'next door.' I was hot, sticky and needed a shower.
I was interviewed for one hour by an efficient but friendly looking woman; the most ruthless assassins, are always 'efficient but friendly looking women.'
She had a big file on me and asked over 100 questions on work, my dates of travel, speeding tickets, tax, last ten years of addresses, etc. Amazingly the old favorite, 'Are you now or have you ever been a member of the Communist party' – yep, long after 1947 and McCarthyism, is still in there.
The trick I was informed about the nationalisation interview; they have all the information and answers and are looking for a lie, just one lie – then, you're out.
She then asked random questions about American history, geography, politics, etc. Here are the ten questions I got. Answers at the bottom in red; have a go before you look at the answers, no peeking!
1) When was the Constitution written?
2) What did Susan B. Anthony do?
3) What do we call the first ten amendments to the Constitution?
4) Who said 'give me liberty or give me death'?
5) Name the two largest rivers in America?
6) What did the Emancipation Proclamation do?
7) Why does the US flag have 13 stripes?
8) What is the State capital of California?
9) What territory did the US buy from France in 1803?
10) House of Representatives has how many voting members?
She informed me I had answered all the questions correctly, got up and said she would be right back.
After five minutes she came back with a copy of The Declaration of Independence, handed it to me and said five words, I will treasure:
"Mr. Conneely, welcome to America".
Answers:
1) Sep 17, 1787
2) Campaigned for women's rights
3) Bill of Rights
4) Patrick Henry
5) Mississippi & Missouri
6) Freed the slaves
7) Original colonies
8) Sacramento
9) Louisiana
10) 435