Exclusive interview with author Catherine Curzon about her new book on the queens of kings named George
Review by Gabrielle Pantera
"I think Georgian Britain is the most fascinating time in the nation's history," says Queens of Georgian Britain author Catherine Curzon.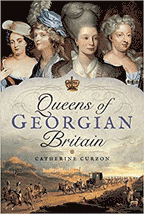 "The dawning of the Age of Enlightenment, of celebrity culture, of a new way of governing and a new ruling House from another land. When I wrote Kings of Georgian Britain, there was never any question in my mind that it would end there. The queens led such fascinating lives and are all too often eclipsed by their husbands, so it was important to me that I tell their stories."
Queens of Georgian Britain covers over a century of British history, but not in chronological order. It's about the women who ruled alongside four different kings named George. All the kings had quirks and their crowned queens did too. There are scandals, drama, arranged marriages, illness, affairs and political disputes that affect both Britain and Europe. Explore the lives of Sophia Dorothea of Celle, Caroline of Ansbach, Charlotte of Mecklenburg-Strelitz and Caroline of Brunswick.
"They weren't mannequins at the side of powerful men," says Curzon. "But important figures in their own right. Some, like Charlotte of Mecklenburg-Strelitz, chose to step into the background. Others, like Caroline of Ansbach, were determined to be just as political as their kings, if sometimes a little more subtle than the men in their lives."
"There was the ill-fated Sophia Dorothea of Celle," says Curzon. "Locked away for thirty years by her husband, George I, after she had a romance with a dashing nobleman. My favorite has to be Caroline of Brunswick though. Caroline was married to George IV, and was a real good-time girl. She left him and toured Europe kicking up her heels and getting into all sorts of entanglements with a strapping Italian soldier. George and Caroline hated each other, spent more than twenty years being very sharp thorns in each other's increasingly corpulent sides."
For research, Curzon read diaries and papers of the era in her spare time. Her research for the book Kings also informed Queens. It included trips to Windsor Castle and Bath, as well as long hours reading the letters of Queen Charlotte, and reports from Dr Willis, George III's fearsome physician.
"One of the joys of writing nowadays is the wealth of documents that are available online, particularly now the Georgian Papers project is digitizing papers from the era for general use," says Curzon. "The electronic newspaper archives available to researchers these days save hours and hours too, not to mention my eyesight. The collections of the British Library have been utterly invaluable in all of my writing, as well as field trips to Chatsworth and Brighton Pavilion, among others."
Queens of Georgian Britain is Curzon's third non-fiction book, after Life in the Georgian Court (2016) and Kings of Georgian Britain (2017). Both were named Book of the Month by Majesty magazine. Curzon has written three novels and a short story, The Angel on the Northern Line, about a superhero in 1950s London who retires to teach Latin. Her first novel was The Crown Spire, a tale of Edinburgh highwaymen. Followed by a French Revolutionary gay romance, The Star of Versailles. Her third novel is The Mistress of Blackstairs, about a brothel madam in 18th century Covent Garden.
Besides books, Curzon has written for BBC History Extra and History Answers, magazine articles for All About History, Explore History, History of Royals, True Crime and Jane Austen's Regency World. Queens of Georgian Britain has yet to be optioned for film or TV.
Curzon recently completed her fourth non-fiction book, a collection of scandals from the court of George III. She is currently writing a number of magazine articles. She working on the next novel and theatrical projects, all set in the Georgian era. Her fourth novel is due for publication in spring 2018.
Curzon lives on a very steep hill in West Yorkshire, near Brontë country. She was born and raised in Nottinghamshire, near Lord Byron's neighborhood at Newstead Abbey.
Queens of Georgian Britain by Catherine Curzon. Hardcover, 240 pages. Publisher Pen and Sword. November 21, 2017. Language: English. ISBN: 9781473858527