The Pasadena Playhouse and Lythgoe Family Panto have announced that the world premiere of Beauty and the Beast – A Christmas Rose at the Pasadena Civic Auditorium will benefit Give Kids Panto, a non-profit educational program, serving yearly over 5,000 Title 1 students across America, many of whom will see theatre for the first time through this program.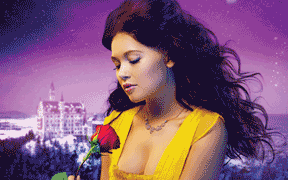 The event is scheduled for Wednesday, December 13th will coincide with the opening night of the panto, which stars Kelli Berglund as Belle, Jonah Platt as The Beast; James Snyder as Gus and Gedde Watanabe as Marcel. The production also stars John Tartaglia as Louis Vuitton, Jared Gertner as Pierre and Harrison White as Dame Chanel. The show will run through December 24th.
All funds raised at the premiere will go to support panto student matinees for LAUSD and PUSD students. The Give Kids Panto program raises funds so that theatre production companies can add a student matinee to their performance schedule. Give Kids Panto supply the bus, organize the bus and buy the tickets to the performance for these shows.
The benefit includes a VIP pre-show reception at Noor, located in Paseo Colorado, including hors d' oeuvres, desserts and beverages.
Kris and Becky Lythgoe, producers of the event, said: "We are so excited to be able to offer over 5000 students across America the opportunity to see live theatre, many for the very first time. With the help of our generous sponsors and passionate board, we are afforded the opportunity to introduce kids from underserved communities and beyond to experience the arts."
Previously Lythgoe Family Panto productions include A Cinderella Christmas, Peter Pan and Tinker Bell – A Pirates Christmas, Sleeping Beauty and Her Winter Knight, and A Snow White Christmas. And the success of the Lythgoes in introducing this quintessentially British entertainment to Americans is demonstrated by the fact that this is their largest season yet, with four different productions playing concurrently in Laguna, Pasadena, San Diego and Houston.
The pre-show reception begins at 6pm at Noor, located in Paseo Colorado. Curtain is 7.30pm. Tickets are priced at $100.
For tickets to this event for any of the show's run, visit beautyandthebeastpanto.com or ticketmaster.com/pantopasadena