Meet Emma Patterson from Chorley in Lancashire, who moved to L.A seven years ago to be an entertainment journalist.
Was there a particular reason you chose L.A?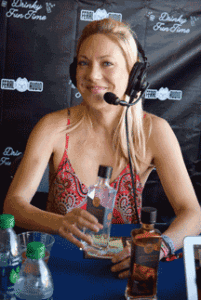 The weather! After eleven years of commuting across London in the wet and cold I leapt at the chance to go freelance in the SoCal sunshine!
What do you miss most from home?
Sunday roasts, British bacon and cosy nights in front of a fire.
What was your first impression of L.A and has it changed since?
My first impression was the incredible optimism of the people I met here. I'd come from a hard-nosed newspaper background, so being surrounded by high-energy people with a 'we can do anything' attitude really helped boost my confidence.
The change was seeing how quickly people can lose momentum and enthusiasm for what they set out to do. That said, I've learnt many great lessons because of this.
What do you find the biggest difference living here versus London and Lancashire?
There's less need to explain your self in L.A. Here you can be a chef, a poet, a Reiki master and a dog walker and nobody would blink an eyelid. In fact, the more jobs you have the more interesting people think you are. In England, we prefer to choose one career, stick to it and get as good as we can at it.
Do you have a hidden gem in L.A that you want to share with us?
My favourite hidden gem is Mart Collective on Lincoln Blvd in Venice. A huge warehouse stuffed full of vintage and collectors pieces from every era and all around the world – and at great prices!
Also, taco trucks! They're delicious, cheap, and usually knock spots off restaurant tacos.
What would you suggest to others who are thinking about making the move here?
Be brave and take the leap. Los Angeles is an enormously rewarding way of living, full of excitement and intrigue – but somedays you may question your own sanity. Cherish the skin-pinching moments – they usually happen when you least expect it.
Lots of our members join Brits in LA seeking out words of wisdom – what is the best piece of advice you've been given? 
If you're British, do not lose your accent! You'll never stop being amazed at how much Americans love it. And just be you. L.A really needs a you.
Lastly, how can we find out more about you?
I also co-host a podcast on Feral Audio called Drinky Fun Time. It's a weekly show about booze with celebrity guests. It's such a good laugh, we get to travel a lot, and we always end up learning something. It's free and you can find us on iTunes, Spotify, TuneIn, or wherever you listen to podcasts. Like us on Facebook and Instagram for show updates and behind-the-scenes pics from each episode. (Twitter/Instagram: @drinkyfuntime)