WELL KNOWN Brit in LA Sandro Monetti enjoyed a night of festive fun at the Pasadena Civic this week for the opening of the latest Christmas panto from the Lythgoe family, Beauty and the Beast.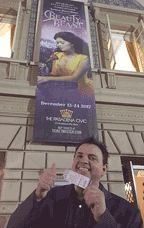 The show, which makes for perfect holiday entertainment for all ages, is based on the classic fairytale written by Madame de Villeneuve. The show includes singing, dancing, interactive fun and songs from Coldplay, Maroon 5, The BeeGees and Imagine Dragons.
The show stars Jonah Platt in the dual role of the Beast and the Prince, who has a terrible curse placed upon him, and Kelly Berglun as Belle, the beautiful bookworm waiting for her dashing Prince.
The show is written and produced by Kris Lythgoe, President of Magic Pictures who TV credits include So You Think You Can Dance, Corkscrewed and Who Are You? Co-producer and head of casting is Becky Lythgoe, a BFA Musical Theatre graduate from The University of Michigan and also studied at the famed Royal Academy of Dramatic Arts (RADA) in London.
The show runs through December 24th and tickets are available at ticketmaster.com/pantopasadena.