By Gabrielle Pantera
The holidays are a great time to catch up on reading or for buying books for gifts. Many books of note this holiday season are companions to TV series or movies. One is a modernization of a classic Jane Austen novel. Here is my informal list of the best choices this Christmas season.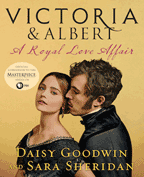 Victoria & Albert A Royal Love Affair By Daisy Goodwin and Sara Sheridan
The official companion to the second season of the PBS/Masterpiece drama Victoria by award-winning creator and screenwriter Daisy Goodwin.
A journey into the private world of Victoria and Albert during their courtship and Queen Victoria's reign. Diaries and letters grant a new prospective into their royal marriage. The book is filled with historical details about the time and the lives of the royals, with lots of illustrations and photos. The photos include behind-the-scenes of the filming of Victoria & Albert. Details about the actors, costumes and props.
Hardcover: 304 pages, Publisher: St. Martin's Press (November 21, 2017), Language: English, ISBN: 9781250175304 $29.99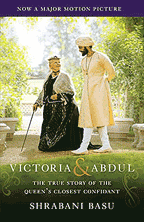 Victoria & Abdul: The True Story of the Queen's Closest Confidant by Shrabani Basu
Based on the motion picture starring Dame Judi Dench and directed by Stephen Frears, the book is set in the sunset of Queen Victoria's reign. Queen Victoria meets Munshi Abdul Karimand, a young Indian man who becomes her dearest companion.
After Queen Victoria losses her husband Albert and John Brown, she meets Abdul Karim, a humble servant waiting tables at her Golden Jubilee. Within a year, Abdul becomes a powerful figure at court as counsel on Urdu and Indian affairs. It becomes scandalous that the queen gives this unknown easy access within the palace. Many in the palace are resentful of their friendship and especially his swift rise.
Paperback: 352 pages, Publisher: Vintage; Reprint edition (August 29, 2017), Language: English, ISBN: 9780525434412 $16.00.
The Crown: The Official Companion, Volume 1: Elizabeth II, Winston Churchill, and the Making of a Young Queen (1947-1955) by Robert Lacey
Official companion book to the Netflix series The Crown. The book features additional historical background, with photos and stills from the filming of the show. The book is written by the show's historical consultant, royal biographer Robert Lacey.
Princess Elizabeth Mountbatten, busy with being a royal wife and mother, does not expect her father to die suddenly. Now not only does she have her family to take care of, she will take on the role of ruling monarch at the age of twenty-five.
Elizabeth faces many challenges. World Ward Two has ended with Britain in ruins. Her uncle, who abdicated the crown, has ridiculed her abilities. Her mother did not support her marriage. Her husband resents that his career is being cut short to support Elizabeth, now queen. Margaret, Elizabeth's younger sister, is caught up in a scandalous love affair with a divorced man, Peter Townsend.
Hardcover: 336 pages, Publisher: Crown Archetype (October 17, 2017), Language: English, ISBN: 9781524762285 $28.00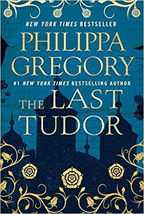 The Last Tudor (The Plantagenet and Tudor Novels) by Philippa Gregory
Lady Jane Grey and her two sisters. Jane Grey is queen of England for nine days after her father and his cronies crown her instead of King Edward's catholic half sister Mary Tudor. Mary raises an army to claim the throne. Locked in the Tower of London, Jane loses her head when she refuses to betray her Protestant faith.
Jane wrote to her sister Katherine, "Learn you to die." Katherine does not plan to die. She's heir to the throne after Elizabeth. However, Katherine falls in love, secretly marries and become pregnant. It puts her life in peril. In the Tower, mere yards from where her sister lost her life, Katherine writes to her younger sister Mary.
Mary, the youngest, is beautiful. She's also a dwarf. Mostly ignored by Elizabeth, she's still under her queen's watchful eye. Can Mary defy her queen and survive?
H         ardcover: 528 pages, Publisher: Touchstone (August 8, 2017), Language: English, ISBN: 978-1476758763 $27.99
Pride and Prejudice and Mistletoe: a gorgeously feel-good Christmas romance by Melissa de la Cruz
Set in modern day America, a female Darcy Fitzwilliam is 29, smart, successful and beautiful. She's always working. She dates the rich and famous, but never falls in love. She never has time to go home for the Christmas holiday. When her mother gets ill, she returns home for the holidays to Pemberley, Ohio.
At her parents annual Christmas bash Darcy meets Luke Bennet, one of the five Bennett brothers, who are neighbors. They find themselves in bed after too much eggnog. Luke makes furniture as a carpenter. His does beautiful craftsmanship and he likes his simple life, the polar opposite of cosmopolitan Darcy. From different worlds, will these two find common ground? Will they get over her pride and his prejudice to live happily ever after?
Paperback, Publisher: Hodder & Stoughton General Division (November 16, 2017) Language: English, ISBN: 978-1473671294 $13.43