The weather outside is frightful, but I doubt we will be seeing real snow in Los Angeles any time soon.
For those of you who are out of town the current temperature is an icy 52 degrees (that's 11 in celsius!).  I was quite surprised to learn that LA used to get snowfall every now and then, although the last reported flake that fell was back in 1962. But of course that wouldn't stop us from missing out, for after all we live in Hollywood!
Let it ( fake) snow….
If you really can't live without the white stuff this time of year, there are loads of options to choose from too: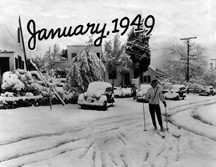 Pershing Square in Downtown has their annual  outdoor ice rink in place until January 15th, and don't forget the popular outdoor ice rink in Santa Monica, which can be found on Fifth Street and Arizona Avenue, which runs through till January 15th, and doesn't close till midnight on the weekends!
Ye Olde King's Head in Santa Monica is a great bet on Christmas Eve, with snow machines blanketing the pavement between Second Street and Ocean Avenue. And if you're in the mood for some tubing and ice skating try Snow Day LA, a full-on winter adventure park at Dodger Stadium. But hurry! It ends tonight (Dec 23rd), there are still tickets available for the evening session 6-10.30pm so if you are game visit snowdayla.com.
The Grove shopping mall has  transformed into a Winter Wonderland, with a huge Santa's Grotto, which isn't cheap to visit (starts at $30) however 5% does go to Children's Hospital Los Angeles. You can catch the snow fall (for free!) every evening at 7 and 8 pm, through December 25.
And the venerable Beverly Wilshire Hotel is even getting in on the act – they have erected an edible oversized Gingerbread House in their lobby, and if you go along on or before Christmas Day December 25, 2017, from 6:00 to 8:00 pm, you 'can revel in quintessential winter weather underneath the property's porte cochère and delight in roasted chestnuts as real snow falls from above.'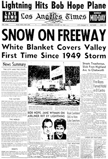 If you want it to feel a little more authentic you can head up to Big Bear Mountain which is only a two hour drive from Hollywood (when the roads are clear). They may not have much of the real stuff at the moment, but they have impressive machines that pick up the slack. I actually learned to ski there about fifteen years ago, on a mix of real and fake snow, and highly recommend it. The teachers were great and very patient. After twl hours I even felt comfortable enough to graduate from the bunny slopes. Visit big bearbearmountainresort.com for more info.
If that doesn't get you into the Christmas spirit perhaps you should try going to Midnight Mass. There are plenty of options to choose from, I'm not religious but am rather partial to the Episcopalian service at St Thomas of the Apostle Church in Hollywood. I might be slightly influenced by the fact that Father Ian hails from Wales, but I also like their official statement that reads 'Whether you are young or old, gay or straight, single, married or in a relationship, female or male, poor or wealthy, you are welcome at St. Thomas' . There are plenty of other services though, just hop onto Google and have a look.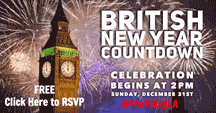 Many of our favorite pubs and bars are having shindigs on Christmas Eve, New Years Eve and some, like The Pikey, are even open on Christmas Day and serving up Figgy Pudding to boot. I will be ringing in the British New Year there too, which occurs at 4pm our time (free entry and Happy Hour prices), so if you decide to come along make sure to say hello. The Cat & Fiddle, The Fox & Hounds, Ye Olde Kings Head and The Cock 'n Bull in Santa Monica all have special events planned too – I have added their listings to our Facebook page which can be found at www.facebook.com/BritsInLA – if you have any events you want us to add you can drop me a line at info@britsin.la
There will be no Breakfast Club or Pub Quiz on Tuesday the 26th, as we mark Boxing Day even if the USA doesn't.  We will be back to normal in 2018, so watch this space for updates.
I hope you all have a lovely Christmas wherever you are and may I be one of the first to wish you a very Happy New Year!
Cheers!
Eileen