THE HEART OF ROBIN HOOD
The Wallis Annenberg Centre for the Performing Arts
Review by Catherine Siggins
With a hey nonny-nonny and a ho-ho-ho, it's Christmas once again Breeps, and what better way to enjoy it then by going to see 'The Heart of Robin Hood', brought to you in co-production by The Wallis Annenberg Centre for the Performing Arts in Beverly Hills and the award-winning Icelandic theatre company Venturport.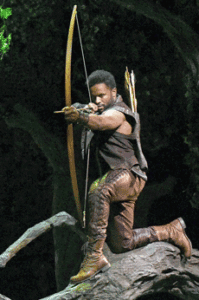 Written by British writer, David Farr, who penned the BBC's excellent TV series 'The Night Manager', this reworking of the classic tale of British daring-do will have you rooting for the goodies and booing at the dastardly doings of the baddies.
King Richard The Lion Heart is off crusading in the Holy Land and has left Blighty at the mercy of his dastardly brother Prince John. The peasantry is oppressed, forced to pay even more taxes to fund John's army so he can take over the country. Messing with his plans for national domination are a gang of tree dwelling brutes led by Robin Hood, who steals from the rich and…well, says sod the poor and keeps the money. Robin is lacking a heart, a misanthrope to boot, and looking out for himself and his mates. Meanwhile in Nottingham castle, Lady Marion, distraught by John's tyrannical reign, decides to save the lives of two orphaned children of a murdered subject by running off to Sherwood with her servant Pierre to find Robin Hood. When Robin refuses to help her in her quest, she takes matters into her own hands and starts her own gang, much to the annoyance of Robin and his crew.
Co-Directors Gisli Örn Gardarsson and Selma Björnsdóttir have turned this tale on it's head, literally. They have their good-looking talented ensemble cast bouncing, sliding, tumbling, swinging, singing and fighting their way through this inventive and funny production, to a great soundtrack of live music and songs by Icelandic pop singer Salka Sól. Choosing not to set it in ye olde Medieval times, they've opted for a visual mash up of eras, courtesy of costume designer Emma Ryott who dresses the cast in garb from Medieval to the 18th century. Scenic designer Borkur Jónsson has created a versatile forest set that doubles as a climbing wall, slide, battlements, and green sward as required.
David Farr has written Lady Marion as the kick-ass heroine of the story, while Robin goes through a miraculous moral transformation thanks to her good example, though his falling in love with Marion seems a bit far-fetched given that he only saw her once before he violently insulted her out of Sherwood. Gardarsson and Bjornsdóttir have the cast run riot with a heightened performance style, high levels of energy, and macabre physical comedy, so this production would be best described as an action-panto for CW fans, if you like.
The incredibly hardworking, humorous, and athletic ensemble cast is led by Luke Forbes who is troubled and hunky as Robin Hood, Christina Bennett Lind as the rebellious, principled, cross-dressing Maid Marion, Daniel Franzese zestfully camping it up as foppish Pierre, and Erik del Barco Soleglad as the deliciously evil Prince John. The cast give energetic performances all round, though at times some of their strong, occasionally wandering, regional accents left some American audience members baffled as to what they were saying.
'The Heart of Robin Hood'…it Sher-wood be a fun night's entertainment for the holidays.
'The Heart of Robin Hood'
Where: Wallis Annenberg Center for the Performing Arts, 9390 N. Santa Monica Blvd., Beverly Hills, When: 7:30 p.m. Tuesdays-Sundays, 2 p.m. Saturdays and Sundays; ends Dec. 17
Tickets: $35-$105. Info: (310) 746-4000, www.thewallis.org, Running time: 2 hours