Lady Victoria Hervey headed for some fun in the sun after Christmas and was captured frolicking on the beach in Barbados earlier this week.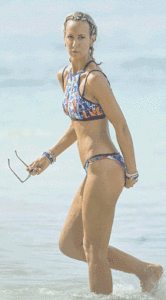 The 41-year-old socialite couldn't resist flaunting her slender figure in a heavily printed bikini as she topped up her tan. Oo-er!
Victoria looked in her post-Christmas element , with The Jump star's two-piece putting focus squarely on her impossibly flat stomach, as well as her long, lean legs.
Victoria's long blonde tresses were styled into two braided puns and she shielded her low-key make-up look with gold tinted shades.
The former Christian Dior model first hit the scenes commanding attention with more than her outfits as a high profile socialite in the late 90s – briefly dipping her toes into reality TV, fashion and journalism.
However, 2017 has been an amazing year for the stunning blonde after she returned to the small screen on Celebrity Showmance and reality series "Living With" Lady Victoria.
I have a feeling 2018 is going to even more successful…Hashtag: #Fingerscrossed!