By Gabrielle Pantera
It's the end of the year with a new beginning right around the corner. It's the time when we all think about setting goals and New Year's resolutions. Now is the right time to gather new ideas. Self-help books can trigger personal insights and many use humor or science to pave the path to success.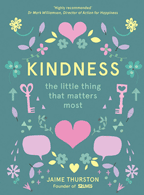 So why not start 2018 with a new lease on life based on the advice of these British books…        Kindness by Jaime Thurston presents 52 simple actions we can do to spread kindness. Scientific insights explain the positive effect kindness has on our brains and hearts. There are inspirational quotes and personal stories to help motivate you to spread kindness. Kindness – The Little Thing that Matters Most by Jaime Thurston. Hardcover: 224 pages, Publisher: Harper Thorsons (September 7, 2017). Language: English, ISBN: 978-0008252847 $10.91
Finish by Jon Acuff is for anyone who didn't complete last year's resolution. Many studies have been done on failed New Year's resolutions. This book guides us to the finish line while taking the pressure off. Are you a perfectionist? How to get around perfect to reach our goals. This book recommends we have more fun to be more successful. Finish: Give Yourself the Gift of Done Hardcover by Jon Acuff. Hardcover: 208 pages, Publisher: Portfolio (September 12, 2017), Language: English. ISBN: 9781591847625, $27.00
Silence by Erling Kagge tells the story of the Norwegian polar explorer who went to Cambridge. In 1993, Erling Kagge spent fifty days walking solo across Antarctica. His solo trek made him the first person to reach the South Pole alone. His book is about how silence gave him time to meditate. There is silence within each of us. Kagge talks about how silence is what we need to be creative, shares his observations of artists, explorers and poets. Silence can open our minds to wonder, happiness and gratitude. Silence: In the Age of Noise by Erling Kagge – Translated by Becky L. Crook . Hardcover: 160 pages, Publisher: Pantheon (November 21, 2017), Language: English, ISBN-13: 978-1524733230 $19.95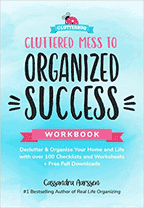 Cluttered Mess to Organized Success Workbook by Cassandra Aarssen is a how-to guide from the professional organizer who produces the ClutterBug.me blog and YouTube channel. De-clutter your way to happiness. Aarssen struggled for years to overcome her own clutter and disorganization. Getting organized transformed her home and her life. Aarssen shares her favorite organizing tips, tricks and secrets with over 100 checklists and worksheets to help us get our homes and lives in order. The book has worksheets for time management, daily/weekly/ monthly planning, home cleaning, financial planning, meal planning, fitness and travel. Aarssen, is also the author of Real Life Organizing, with de-clutter tips that specific to being on a small budget.
Cluttered Mess to Organized Success Workbook: Declutter and Organize your Home and Life with over 100 Checklists and Worksheets (Plus Free Full Downloads) by Cassandra Aarssen. Paperback: 156 pages, Publisher: Mango; Workbook edition (January 2, 2018). Language: English, ISBN: 978-1633537088 $19.95
The Little Book of Happiness by Alison Davies is about learning to live in the moment. Tips, positive quotes, and simple exercises to help anyone smile. For example, "Most folks are as happy as they make up their minds to be" – Abraham Lincoln. Davis teaches workshops throughout the UK to train academics, students, and early-years practitioners how stories can be used for teaching and learning. She's also the author of Be More Cat. The Little Book of Happiness: Live. Laugh. Love. Hardcover by Alison Davies. Series: The Little Book of, Hardcover: 192 pages, Publisher: Quadrille Publishing (January 2, 2018), Language: English, ISBN-13: 978-1787131125 $9.99
   Happiness by Andy Cope is a practical and funny guide. Cope teaches how to change our thinking by looking for a new prospective. How to focus on the more important things that really matter. Cope researched positive psychology for ten years to create a series of keynotes and courses on happiness. He has a PhD in Happiness from Loughborough University. Cope is the author of several best-selling personal development books, including The Art of Being Brilliant, and best-selling children's books with his Spy Dog series. Happiness: Your Route-Map to Inner Joy by Andy Cope. Hardcover: 192 pages, Publisher: Teach Yourself; 1 edition (January 23, 2018)
Language: English, ISBN-13: 978-1473651029 $16.99