Meet Earl Palmer. Originally from Wales, he moved to LA several years ago to pursue an acting career.
Was there a particular reason you chose LA?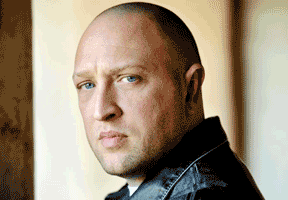 After finding a love of acting at the tender age of 30 and appearing in an independent feature film which was shot in Wales, I made the decision that I wanted to crack the acting world and not just treat it as a hobby. Sadly I wasn't in a financial position to go back to school and study, so I learnt on the job for a number of years working with some fantastically talented actors and directors who were generous with their time and helped me grow as an artist. I decided to attend a networking week here in LA a few years back once I was confident I was ready and to see if I had what it takes to make it in this town. Thankfully I received a lot of positive feedback, so moving to LA became one of my goals. I was able to obtain my O1 visa, sign with RPM talent agency in Burbank and found a rugby club (Eagle Rock Rugby Club, training Tuesday and Thursday 8pm John Francis Poly High School) that was willing to help me relocate. There is something special and iconic about being an actor in this city and seeing the Hollywood sign as you attend an audition. It is surreal, humbling and exciting and constantly keeps me enthused.
What one thing do you miss from home?
Fish and Chips….No….Walking down the street and bumping into friends randomly all the time….Nope….I am cheating here clearly haha I don't just want to give the obvious answer of family, friends and godchildren, so my one answer will be the rugby. Going to the games, singing the anthem, the atmosphere, seeing players I have played with and against in the stadium and pubs, everyone in Cardiff happy, Wales international days are like no other sporting event, they are magical. Pretty much everything about international day whether I go to the game or not I miss. Missing the games live here and staying off social media to watch the game on youtube 24hrs later isn't the same.
What do you find the biggest difference in living here versus Wales?
People are so friendly here. A stranger will strike up a conversation with you randomly, and as a Brit, that takes some getting used too. BUTTTTT, once these wonderfully lovely, friendly people get into their cars, they turn into aggressive Nascar drivers. All pleasantries go out the window and it's get somewhere as fast as you can with little regard for anyone else driving. But as I say, out of cars, people here are awesome.
What would you suggest to others who are thinking about making the move here?
Do it. It really is a wonderful city. You have the ocean, the mountains, incredible food, lovely people, the weather is amazing when it isn't summer and it turns into hell's waiting room in the valley and there is so much to do here. You may never get used to the traffic, but it a huge city, it is to be expected. If you are thinking about it, do it, I don't think you will regret it.
Lastly, how can we find you on the internet?
I am all over instagram at the moment, it is definitely my favourite social media tool, so please find me @earltheactor which is also my twitter account name and my acting facebook page, facebook.com/earltheactor/ If you have a spare 15 minutes and would like to smile, please watch my award-winning short comedy/superhero film Daipool on youtube…, just search Earl Palmer Actor. Thank you Brits in LA.