Long gone are the days playing goofy teenager Neville Longbottom as Harry Potter actor Matthew Lewis has viewers swooning after making a remarkable transformation in a topless scene in the UK TV hit Girlfriends…
Oo-er!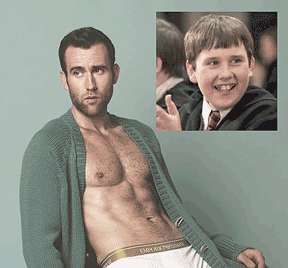 The 28-year-old returned to British screens this week in a new ITV series sending the viewing figures through the roof.
And his Longbottom days are clearly behind him as the hunk showed in a topless scene.
His character Tom was seen posing in only his boxers, showing off his muscular physique.
The scene saw him opposite on-screen mum Zoe Wannamaker – who he also acted alongside in Harry Potter: The Philosopher's Stone.
It wasn't long before Twitter was awash with fans in a frenzy swooning over the star.
"Oh hello Neville Longbottom," one user said.
Another added: "That weird moment you realise you fancy Neville Longbottom."
A third disbelieving viewer commented:"I'm not sure Neville Longbottom looked like that in Harry Potter."
While one user was thankful for the cheeky scene, saying: "Big shout out to the gratuitous nudity of Matt Lewis on Girlfriends."
Girlfriends follows three friends (Wanamaker, Miranda Richardson and Phyllis Logan) as they struggle with the changes and responsibilities of being a modern woman of a certain age.
The six-part drama continues next Wednesday at 9pm. Can't wait to see this on U.S television!