Happy New Year Everyone!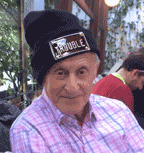 2017 was quite an eventful one, wasn't it? The entire world seemed to be forced on to a giant roller coaster of crazy political shenanigans combined with multiple natural disasters. They couldn't even be overshadowed by the 'once in a lifetime' total solar eclipse back in August.
My one wish for 2018 is that the madness stops, or at least slows down.  I think we could all do with a minute to recover our equilibrium. I like to use the occasion of a new year to take stock and remind myself to pay more attention to what is truly important. It's the perfect opportunity to clear out the cobwebs and if needs be, to turn over a new leaf.
So many Brits in LA members relocate here and start out their journey very focused, but over time get a bit distracted – Craig listed some great tips in last weeks column, including the very common mistake a lot of us make……" Don't get caught up in partying!".
With award season almost upon us, there will be so many 'important' events that you will be convinced you mustn't miss, but I totally agree with Craig on this one. That was one of the reasons why we launched our weekly Breakfast Club. It surfaced from an idea a friend of ours had. He would organize weekly breakfast gatherings for his friends. It was a great start to the day and meant you could still get some social time in but avoid late nights and possible hangovers. Sadly, over time it fizzled out, due to people moving on etc.  However, Craig and I realized it would be something Brits in LA members could enjoy too, so here we are almost nine years on and we are still going strong at Cecconi's in West Hollywood – we still meet every Tuesday 9.30 a.m-11.30 a.m,  and have even been featured on Blue Peter (and have the badges to prove it!). Next week will be a very special one, as our honorable 'Mayor of Breakfast' Bernard Skibben turns 90 on January 13th!
Bernard is the heart of our Breakfast Club and goes out of his way to make sure new members feel welcome – plus he keeps an eye on the rest of us too! I think many of you have had your special moments with Bernard over the years, so if you want us to pass on any birthday messages or cards, drop us a line at BritsinLA@gmail.com and we will make sure they all get to him. Make sure to put his name in the subject field to ensure we don't miss any.
And if you can attend next week week, even better! He claims his sprightly appearance and attitude is due to the huge amount of Cadburys he consumes (!), so if you want to get him a gift you obviously can't go wrong with a box or bar of 'eternal youth' chocolate.
Lastly, a big congratulations to Team " We are only here for Sandro" who won the first pub quiz of 2018. I was extra delighted, as I was part of this winning line-up! I also got a Guinness T-shirt for 'being funny', although with hindsight it might have been a bribe to stop me interrupting!
Do come along next Tuesday evening if you fancy your chances – it usually ends around 10pm so you can still get a fairly early night and perhaps go home with a cash prize too.
Visit us at www.britsin.la for details on all our upcoming events – and watch this space for news on The Toscars 2018!
Cheers
Eileen