Exclusive interview with author Lauren Willing discussing her murder mystery set during the deceptively beautiful Golden Age of New York
Review by Gabrielle Pantera
"Confession, this was not the book I was meant to be writing," says The English Wife author Lauren Willing.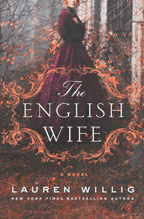 "I was researching a family saga set in Belle Epoque France…an image crept into my head of a woman in a pompadour on a parapet, falling, falling, into the river below. I knew immediately, that woman on the parapet. I tried to go back to my beleaguered Frenchmen. They seemed flat in comparison to that woman on the parapet. She demanded her story be told. In a way, the real inspiration for this book was the way society treats women, the stories we tell about women, the slander we're so quick to believe."
In The English Wife, Annabelle grows up in a Tudor manor in England. She meets and marries the aristocratic American Bayard Van Duyvil and moves with him to New York where they take up residence in an estate on the banks of the Hudson. She gives birth to twins. But then rumors begin to swirl about an affair between Annabelle and the architect of the house. Bayard is found dead, a knife in his chest and Annabelle goes missing.
Bayard was a Knickerbocker – the term invented by Washington Irving to label the old wealthy families of New York. Often of Dutch descent, the term overlaps with the group known as the Astor 400, New York's crème de la crème, who lives lives every bit as privileged as the British aristocracy. It's different for the Kickerbocker women. They were not allowed to go out without someone accompanying them. The men are free to frequent the nearby whorehouses or take a mistress as long as they stay discreet. But if a wife is even rumored to have taken a love, she faces rejection and overt hostility from her society peers.
"I grew up convinced that New York was a semi-detached part of England, and that if I wandered just the right way through Central Park, I'd come upon a Norman castle and a band of knights returning from Crusade," says Willing. "My bookshelves were populated with Knights of the Round Table, the Scarlet Pimpernel twirling his quizzing glass and snatching aristos from the guillotine, Noel Streetfield heroines trying their luck on the London stage. It didn't help that I went to one of those tiny all-girls schools where the older teachers still spoke in fake British accents."
The English Wife moves from 1890s London to Belle Epoque Paris to Gilded Age Newport to the seedy and elegant bits of 1890s Manhattan to the mansions of the Hudson Valley. Willing did research though memoirs, diaries, letters, monographs, museum exhibits, glossy coffee table books, house tours, burlesque theatre in London, early photographic exhibitions in Paris, beach clubs in Newport, charitable organizations in New York, and refurbished mansions in the Hudson Valley. Willing says a decade ago she would spend her time in the British Library, the Public Records Office, and the basement of Harvard's Widener Library. With so much digital today, she does most of her research from the comfort of her home.
The English Wife is Willing's seventeenth novel. She's also co-written two novels with Karen White and Beatriz Williams. Willing has won a RITA Award for Best Regency Historical, Booksellers Best, Golden Leaf, and Reviewers' Choice awards for Best Historical, and named in the American Library Association's annual lists of the best genre fiction. The English Wife has yet to be optioned for film or TV.
Willing is currently writing a book set in 19th century Barbados, spanning from the 1810s to the cholera epidemic of 1854.
Willing is based in New York, spent most of her life in a twenty block stretch of the Upper East Side. She studied at Cambridge and spent time in London for dissertation research. She was born in Philadelphia. Willing will be speaking at the Corner Bookstore in New York on January 9th, FoxTale in Georgia on January 13th, the Poisoned Pen in Arizona on the 14th, and Murder by the Book in Houston on the 17th.
The English Wife: A Novel by Lauren Willig. Hardcover: 384 pages, Publisher: St. Martin's Press (January 9, 2018), Language: English. ISBN: 9781250056276, $26.99