With his cut-glass cheekbones, the sharp dinner jackets, and exotic locations: it's no surprise that James Norton's role in McMafia, BBC One's silky new crime drama, has seen him installed this week as the hot favorite to replace Daniel Craig as James Bond.
Oo-er!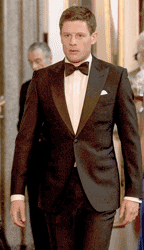 Bookmaker Coral say Norton, who shot to fame as the hunky vicar in Granchester, is odds-on favourite to take charge of the franchise next. The firm have given the 32-year-old English actor odds of 1-2 to land the iconic Bond role….this despite the fact that Norton claims he hasn't been approached to play 007.
John Hill, a spokesperson for Coral, said: "James Norton's stock as an actor is increasing all the time and we feel it won't be long before he is approached to replace Daniel Craig as the next 007."
Norton is followed by Tom Hardy at 7-2 to replace Craig.
After this is The American Hustle's Jack Huston (4-1), Polkdark Aidan Turner (12-1), Tom Hiddleston (14-1) and Idris Elba (16-1).
The news comes after a James Bond producer said she "wouldn't hesitate" to break condition to have a female or black actor play Bond.
Coral has also given odds of 5-1 that Bond will next be played by a female actress.
Please NO!
Bond supremo Babara Broccoli said: "These films tend to reflect the times, so we always try to push the envelope a little bit."
The producer continued: "Anything is possible. Right now it's Daniel Craig, and I'm very happy with Daniel Craig, but who knows what the future will bring."
But while critics the red-hot McMafia Norton's 'big audition' and Twitter hyperventilates, fawning over his bare-chested beach scene, remember we've been in this exact spot before, in 2016, when a preening Hiddleston caught the eye as a debonair spy in the not-too-dissimilar-to-McMafia thriller The Night Manager.
After Craig had seemed to announce his retirement from Bond duty with his comment that he would rather slash his own wrists than play the secret agent again, Hiddleston was considered a shoo-in: at one point, betting was even suspended on him taking the role.
But then he began a publicity-ravenous relationship with Taylor Swift, which stripped him of any veneer of cool and unobtainability – essential 007 traits – Broccoli allegedly deemed him too "smug and not tough enough" to play the world's most famous spy.
Craig, had ruled out returning to the Bond franchise after Spectre.
However, he has agreed to reprise the role for Bond 25.
So, naturally, the question on everyone's lips is… are we looking at the future 007? Not content that Daniel Craig has signed for the next Bond film, we're still casting around for his successor, apparently without having agreed exactly what the successful candidate requires.
I shall keep you all posted on this one!