And while still on the subject of James Bond favorites… Idris Elba will make his debut into mainstream music later this year.
With the forthcoming series of Luther – the gritty London cop drama which stars Elba as the troubled criminal profiler – rumoured to be the last, the actor and part-time DJ could be stepping away from TV to focus on his love of music.
Oo-er!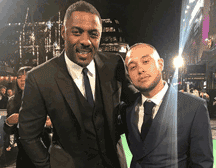 Idris – who stars in Hollywood blockbuster Avengers: Infinity War this spring – is teaming up with No1 DJ Jax Jones for a huge dance anthem, after bonding backstage at a festival at Eastnor Castle in Herefordshire last summer.
In a recent interview Jax said: "We hung out at El Dorado, he DJ'd after me, he was mad cool and we had a few drinks and stuff, it was pretty chilled we got on straight away.
"And then I saw he had a new film out called Molly's Game so I went down on the red carpet to support him, we spoke again, got a picture with him and stuff.
"We started chatting about hooking up, he seems interested.
"I pinged him an email with some ideas, so hopefully that can happen this year."
Idris will start filming the next season of Luther next month and Avengers is out in April so Jax is hoping they could have a banger ready for festival season.
He said: "It's always good to have new music for the summer, of course.
"I would love to get Idris just speaking on a record, some sort of social commentary too a bit like Baz Luhrmann's Wear Sunscreen."
Plus Idris is also rumoured to be working with another talented Brit, Stormzy, king of the popular hip-hop genre. Their pair were pictured hanging out together just before Christmas.
Jax's latest hit Breathe featuring Ina Wroldsen is out now.
     This is music to my ears!