Greetings Breeps!
So it's been a few weeks of getting back into the swing of things, and trying to shift the feasting of the season off the midriff. It seems everyone is in the same boat, with everyone grabbing hold of the latest diet or fasting trend.  I don't know about your gym, but mine is packed – we'll see how long for, as we all know come February people slump off and get back to their old routine of not being quite-so-healthy.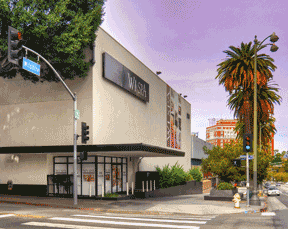 But if it's the Spa life you are looking for, Wi Spa in Koreatown is an eye-opening trip. Located at 2700 Wilshire Boulevard (213-487-2700) it was recommended to me by BiLA Member Jonathan Dixon. So I thought I'd check it out with a girlfriend after a large night out when I was in need of a serious hangover remedy.
As we pulled up to five-storey building, just West of Rampart Boulevard, I couldn't help noticing the swarm of families and gaggles of friends entering too.  It was much more reminiscent of a department store or shoping mall than the kind of spa I'm used too.  It was a Saturday, which probably helped…and upon entering I soon realised this place was not the relaxing spa we had in my mind. It was, however, an an unforgettable experience…
After checking in and booking our treatments we were handed T-shirts and sandals and seperated into our male and female locker rooms. We agreed to meet at the co-ed space on the third floor, – which was packed, -I mean to the rafters – with men in white t-shirts and women in yellow, – I guess for easy identification, some were reading, some were sleeping and some kids were running around playing tag. There is a food court/diner and a computer wifi station and a library and a jungle gym, then three dry saunas, one with salt, one with clay and the last with jade, where you could find couples, who were laying snuggling, or an individual listening to music with his Bose head set, or a group of teenage girls talking about not looking forward to going back to school.  And after that we noticed an ice-sauna – how cool. Then, It struck me, that this is a real lifestyle for these people, almost cult-like. This was normality to the spa-people. I'd just came for a quick steam to shift the mother of all hangovers and walked into a Philip K. Dick novel. Kimry, my friend was equally baffled by this sub-culture of Spa-worshippers. We didn't have to wait long for our treatments, so separated once again we were whisked off. In the men's wet area, all the guys were totally starkers, and little boys too, which was a bit weird if you ask me. Kimry told me the same was true in the ladies' area.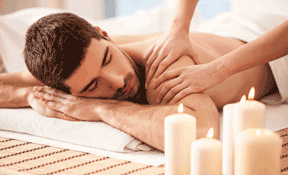 A nice Korean man grabbed me by the wrist, and looked at the number on my electronic bracelet that was used to unlock my locker, but was now being used as an identification device. "Number 273, I've been looking for you. Come, Come."  (Yep I'm definitely in an episode of Black Mirror, I thought to myself). He indicated for me to remove my towel, (it was more a wash cloth) and to jump on his table. Where he proceed to throw buckets of warm soapy water over me and scrub at me like a pan in the sink that had not been soaked overnight. Ouch! Damn, this is rough, I thought, but soon I got into it and realized that it was the only way all these toxins and dead skin cells were going to come off of me. After half and hour and feeing positively glowy,  I went for my Swedish massage, which was two floors up and in a row of cubicles and co-ed so shorts and shirts were required, again. I couldn't help thinking I was in some sort of factory and I was the product. But wait, I'm the one paying for this right?  The wailing of kids in the jungle gym above us was slightly distracting and was less than calming than I had hoped for, but the masseuse was tough and gave my back a complete workout.
Afterwards I went back into the wet area were if you wear a towel or shorts you look completely out of place. With three pools, a wet steam and a dry sauna with a TV inside playing basketball, it was quite unnerving when "the local" team scored and the back row of men jumped up and everything went flying, if you catch my drift. It was certainly a shock to see this bonding of nakedness and display of high-fives. But then I came to realize that these dudes hang out here all day and bonding with their naked buddies is a way of life. I mean, why would you ever leave? I later learned tht since the spa is open 24 hours you can actually sleep there as they've got cots on the second floor.  Needless to say after our experience we decided we needed to eat, elsewhere and  the food court wasn't cutting it. And it was getting late. So before laughing all the way home we took care of our hangovers with a stop off at Trejo's Tacos. (1556 N Cahuenga Boulevard) Next time I'll be making an appointment at Burke Williams Spa (925 N. La Brea Ave, Hollywood. Phone: 323-822-9007) where it's more my style; serene, tranquil and far less ding-dongs flying about.
Finally: congratulations to our beloved Mayor of Breakfast, Bernad Skibben, whose 90th birthday was celebrated in style by the Breakfast Club crowd at Cecconi's. May you have many more, dear Bernard.
Have a great week ahead!
Craig