Exclusive interview with author Kieran Kramer discussing her contemporary novel about love and wedding planning
By Gabrielle Pantera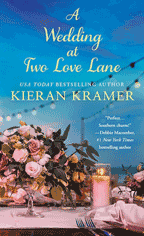 "When I decided to write a wedding book, I wanted my character to be one of those 'pre-planners', says A Wedding At Two Love Lane author Kieran Kramer.
"A few years ago, I read a New York Times article about women who plan their weddings when they don't have a partner in place yet. They open Pinterest files, cut out magazine photos of anything about wedding preparation that appeals to them. Some focus on the dress. Others might be into the bachelorette party planning. Or the food angle might appeal. I thought it was really interesting, and I never forgot it."
This is book two in the Two Love Lane series. Greer Jones, the owner of a matchmaking agency, is great at her job. She's a bit of a geek, not so great in her own love life. She asks a handsome Brit, Ford Smith, a starving artist she just met, to accompany her to a party. Except he's not a starving artist, he's really the Eighth Baron of Wickshire, one of the most eligible bachelors on the planet. He's traveling incognito, avoiding women who would want to marry him for his money.
Kramer says much of the series is based on her knowledge of Charleston and my own life experience.
"I do borrow heavily from my family's and friends' lives to fill out my characters," says Kramer. "Macy Frost, for example, is a big basketball fan because my sister is."
"My first-generation Irish-American mother knew Kieran is a boy's name, but she didn't care," says Kramer. "I took such flack for it when I lived in Scotland. I attended the University of Strathclyde in Glasgow for a year. It was an amazing experience. I made so many great friends that year. I was a barmaid at the university pub, too, and it was open to the public. So I'd meet all the old lads who'd come in and tell me their experiences fighting in WWII. I dated a Scottish rugby player the entire time, and we were in Edinburgh often attending matches."
"When I'd get homesick, I'd take a coach or the train down to London and then out to Kent to see my nanny," says Kramer. "I grew up with a zany English nanny. So, I had a lot of exposure to the sort of madcap humor the British are known for."
Kramer worked as a writer in Washington, D.C. and wrote for The Charlotte Observer newspaper. Kramer wrote her first book when she was eleven, The Adventures of Tom Nooley, about a talking baseball. Kramer won an award as Best Regency Debut author from RT Book Reviews magazine for When Harry Met Molly, which finaled in the Romance Writer of America's Rita awards. Cloudy with a Chance of Marriage is listed by Library Journal as one of the Top 100 Romances of the past ten years. She's had an Amazon Book-of-the-Month and is a Top December Pick from Book Page. Christmas at Two Love Lane is being considered for film adaptation.
Kramer is currently working on short stories for her thesis, part of an MFA in Creative Writing at The College of Charleston. She's a teaching assistant in an undergraduate fiction writing class. She's also writing her next book, Second Chance at Two Love Lane, the third book in the series.
Kramer lives in Charleston, South Carolina. She was born in Washington, D.C.
Her website is KieranKramer.com. She's active on Instagram, Twitter, and Facebook.
A Wedding At Two Love Lane by Kieran Kramer • Series: Two Love Lane (Book 2), Mass Market Paperback: 352 pages
Publisher: St. Martin's Paperbacks (January 2, 2018), Language: English • ISBN: 9781250111067 $7.99