Over the years hunky actor Gerard Butler has been the on-screen love interest to some of the world's most beautiful leading ladies … But now the star has finally come clean declaring that Jennifer Aniston a better kisser than her love rival Angelina Jolie.
Oo-er!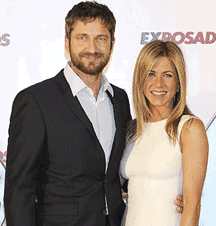 The 48-year-old actor has got up close and personal with both actresses – Jennifer in 2010's The Bounty Hunter and Angelina in Lara Croft Tomb Raider: The Cradle of Life in 2003.
And during an appearance on Watch What Happens Live With Andy Cohen earlier this week, host Andy asked Gerard who was better in the smooching department as part of the game 'Plead The Fifth,' where the celebrity can choose to "plead the fifth" rather than answer the question.
However, as Gerard had already used his plead the fifth during the segment, he had no option but to answer – telling Andy: "Jennifer Aniston. I'm just going, you know, I'm just taking you by surprise."
While Gerard looked nervous about his answer, the show's other guest 50 Cent looked delighted by the answer, and grinned as he said: "No no no this is good!"
Jennifer and Angelina's feud is one of the biggest in Hollywood history, amid claims that Angelina and Brad Pitt fell in love while making the movie Mr & Mrs Smith in 2005 – when he was still married to Jennifer.
While Jennifer is now happily married to Justin Theroux, the bad blood between the pair still appears to exist, judging by Angelina's eyes-down glance when Jennifer presented a gong in front of her at the recent Golden Globes. Angelina and Brad confirmed their relationship in 2006 when they announced she was pregnant, they married in 2014 but split in September 2016.
Meanwhile, Gerard's other confessions on 'Watch What Happens Live' included the most bizarre places he has had sex.
"I'm trying to think, I've had sex in some pretty places," he said as he answered the fan-submitted question. "I had sex on the side of a volcano once. That was pretty cool. Actually, it was pretty hot. And on a glacier."
Um, I guess that's one Hollywood Kiss-Tery SOLVED!