Hands up if you vowed to be more organized in 2018!
I really did mean it when I said it, but I have already fallen at the two-week hurdle. And horror of horrors, it is one of those things us expats all fear we will forget…. Yep, my British passport is set to expire!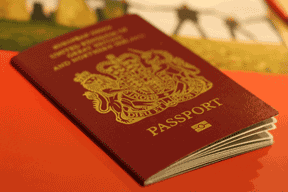 I find this especially mortifying as I often remind others that they can renew their passport up to nine months in advance. I don't think a week goes by without a few Brits in LA members asking us questions on the topic. So there really isn't any excuse for my lapse in memory; I think it might be time for me to dig out my Christmas gift from 2016 'The Life-Changing Magic of Tidying Up: the Japanese Art of Decluttering and Organizing'!
A lot has changed since I last applied for a passport back in 2007. First off, it no longer gets processed at the embassy in Washington D.C. It is all done back in Britain now. In spite of the location there is now a faster turnaround and it is slightly cheaper (£102.86 including shipping). Fellow members report that they have received their new document in approximately 2-3 weeks!
The application can all be completed online now – and is pretty much idiot proof. I started mine this morning and was surprised that there were no forms to fill in, just a few simple questions to be answered. It took me about 15 minutes to complete – and I think 10 of those were spent double checking everything as I couldn't believe how easy it was.
You can even pay for it online. However, you do still have to print it all off and mail it in. And of course you need to get the dreaded photos taken. Which isn't as straightforward as you think. The United Kingdom has slightly different specs to the USA so you have to shop around as not everyone can issue the required 45mm high by 35mm wide (the standard size used in photo booths in the UK).
If you are a fairly decent photographer you can take one at home and upload it to IDphoto4you.com – they have drop down tabs that allows you to select the country and size – then you can either print off at home or send the digital file to your local photo lab (Costco, CVS, Walgreens all do it).  Apparently Walgreens can also take UK passport photos in store. I usually recommend Photo Lab (photocenter.biz) who are able to follow most countries requirements. They can be found at 7961 Beverly Boulevard in Los Angeles just west of Fairfax.
If, like me, you are a dual citizen, you will need to send in a color photocopy of your other passport, (This means every page including the front and back and ALL of the blank ones.) You will also need to add the foreign passport number to the 'Additional Information' box. I recommend that you include a color copy of your California ID and a bank or bill statement with your name and address on it. This just helps speed up the process as they can verify your identity faster.
I'm sending my completed forms and old passport  back via  the Post Office using USPS Registered Mail which will cost approximately $15. I will let you know how long the whole process takes.
If you have any questions don't hesitate to drop me a line at eileen@britsin.LA also check out our 'How To" guide which can be found on our blog (www.Britsin.LA).
Don't forget this is your final chance to sign up for our annual film competition The Toscars, where Brits in LA members get together and make five minute parodies of this years Oscar-nominated films (think French and Saunders' marvelous version of Titanic!)  Team selection night is on Wednesday January 24th at The Cat & Fiddle – visit thetoscars.com for full details.
Cheers!
Eileen