Meet Fiona Goodwin from Warwickshire who moved to LA 13 years ago to pursue standup comedy.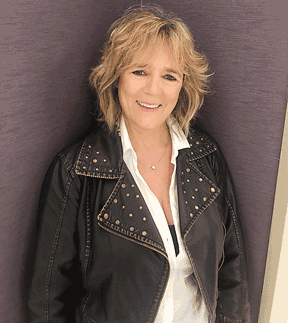 Was there a particular reason you chose LA?
Los Angeles is the place that seemed to give me permission to be whoever I want be.
What do you miss most from home?
I miss log fires, Wellington boots mulled wine and single track country roads. Mostly, I miss THEM, the people, and the banter.
What was your first impression of LA and has it changed since? 
When I first came here, initially it was to do the spiritual psychology masters program I was doing in Santa Monica. I commuted one weekend a month for two years. The sunshine every time I got off the plane just made me feel like a different person – and the program I was doing was all about authenticity and I had been hiding my sexuality for 45 years. The masks did not stand a chance here.
What do you find the biggest difference is living here? 
The biggest difference for me, living in LA is the feeling of permission to be myself and to pursue writing and comedy. In Leamington Spa I was known as an educator and counselor – I am still that here in LA but somehow there I just didn't feel able to be as creative.
Do you have a hidden gem in LA that you want to share with us? 
I am reluctant to share a hidden gem because then it will no longer be hidden but I have to tell you that the Cliff Edge in Silverlake is my favorite restaurant… You won't be disappointed!
What would you suggest to others who are thinking about making the move here? 
To people who are thinking about moving here, get a good immigration lawyer like Pam Meyer; be nice to and about America and the people who got here before you did – they are what make this place so great, truly. Right now it's just having some growing pains! Be ready to become your best self… that is totally what is on offer here. Be open to magic.
Lots of our members join our group Brits in LA seeking out words of wisdom – what is the best piece of advice you've been given?
In the words of Bette Davis: 'Take Fountain!' It really is the quickest way to get across Hollywood.
Lastly, how can we find out more about you ? Are you working on anything at the moment?
I am registered with the BACP as a psychotherapist – here I call myself a coach and I have openings for new clients. I work internationally on Skype with clients in the UK and Australia as well as in person here in Santa Monica. That's the day job!
My next show is 8pm on January 30th at the Whitefire Theatre in Sherman Oaks. It's funny and moving. And very British! Would love your support. You can also find me at fionagoodwin.co.uk on facebook.com/fiona.goodwin3 or twitter @fionagoodwin5