WITH THE FESTIVE season fast disappearing in the rear view mirror, the next big event in the local expat calendar has to be Burns' Night, which will be celebrated by the St. Andrew's Society of Los Angeles on Sat. Jan. 27th at the Sportsman's Lodge in Studio City.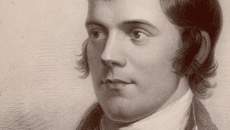 Tickets are still available for the event, which kicks off at 6pm. Expect traditional Scottish fare, bagpipes and of course the toast to the haggis immortalized by Scotland's greatest poet. For details contact Ian Skone-Rees at 818 769-5166 or email iskonerees@saintandrewsla.org.
The British-American Business Council in Orange County will host a Business After Hours celebration with a Scottish flavor a week later on Friday, February 2nd from 6pm-9.30pm at Gulliver's Restaurant, 18482 MacArthur, in Irvine. Attendees should sport their finest Highland wear be it tammies, scarves, knickers or kilts, and the evening will feature Scottish Music with piper Cindi McIntosh Behr and a premium whisky tasting. Hors d'oeuvres will be served…plus a ritual haggis sacrifice…what more could you want? Tickets are priced at $28 for members and $35 for guests. For details visit babcoc.com or call 949-338-4251.