Stunning singer Rita Ora looked creamy and just a bit dreamy this week as she sat at a table and tucked into a slice of cake, wearing nothing but a fur hat.
Oo-la-la, Ri-ta!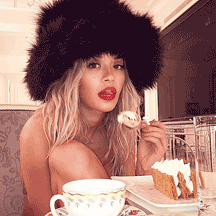 In the sexy shot posted on her Instagram page, the 27-year-old can be seen sitting completely naked in her hotel room licking her lips as she spoons the cake into her red painted mouth.
She captioned the picture taken in New York, which sees her with a large cup of tea: "Nights like these."
Rita shared another shot of herself wearing just the fur hat, declaring it was -1 degrees, showing off her amazing figure in the process.
It's been a busy few days for Rita, who jetted to Paris earlier this week to attend a few shows during fashion week before heading to New York.
Her appearance and latest naked shots comes after she revealed she was determined to prove her parents "wrong" over her singing career.
The singer-songwriter was born in Kosovo, before her family subsequently fled the disputed territory to move to London, where Rita attended the prestigious Sylvia Young Theatre School – but her parents were concerned about her choice of career.
She told the South China Morning Post newspaper: "When I left school I definitely wanted to try this music thing. My mum and dad are very educated and have degrees, so they found it really scary that their daughter wanted to be a singer. I really tried to prove them wrong.
"My parents worked really hard to get me into that school and I hope I'm paying them back now."
I'd say this songbird is definitely one for having her cake and… er, well, you get my drift!