The sun is going down on Sir Elt who has just announced he is retiring from touring – well, erm, eventually…
It promises to be the longest goodbye since Cher's Farewell tour which started in 2002 and ended in 2005, followed by more Vegas dates!
However, Sir Elton ruled out extending his, saying: "I'm not Cher, even though I like wearing her clothes."
Nearly 50 years after touring for the first time, Sir Elton John will head out on what he is calling his last tour, in September.
Oo-er!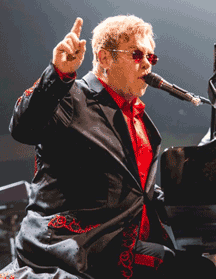 The veteran showbiz star's Farewell: Yellow Brick Road Tour will launch in Allentown, Pa., on Sept. 8, and last for about three years, he said in a New York press conference in which he was interviewed by Anderson Cooper.
"I am not going to be touring anymore, apart from the last tour, which is going to start in September of this year, and will be a global tour," John said at the press conference.
"And it's the last time that I will be touring, and traveling the world. Because my priorities have changed, in my life.
"Ten years ago, if you'd have said I'm going to stop touring, I would have said, 'No, no. I'm a working musician. I always play.' But we have children, and I changed our lives. And in 2015, (husband) David (Furnish) and I sat down with a school schedule, and I thought, 'I don't want to miss too much of this.' You know, I've had an amazing life. I've had an amazing career. I've been so incredibly lucky. And my life has changed."
The singer added: "The priorities in my life have changed. My priorities now are my children, and my husband, and my family. And I've been touring since I was 17, with various bands, and as Elton John in 1969. And I thought the time is right to say thank you to all my fans around the world. … That doesn't mean to say I'm still not going to be creative. But I'm not going to travel anymore."
It will take about three years, he said, to do the tour the way he wants to.
"To go around the world properly, " he said, "and to say goodbye to everybody in the countries that I'm popular in, it will take three years, probably. … This is a 300-date tour. In the press today, in England, of course, they said I'm retiring because of ill health. And if you do 300 shows … you're not in ill health. I'm in great health. Last year, I picked up an infection in South America. I was very ill, for seven weeks. It knocked me sideways. But I still did 96 shows last year."
Being Elton John, he promised the upcoming tour will be a lavish production.
"It's a way of going out with a bang," he said. "I don't want to go out with a whimper. I want to go out with a big bang … and say thank you, and leave people thinking, 'I saw the last tour, and it was fantastic.'"
For complete tour dates and tickets, visit eltonjohn.com