Exclusive interview with author Kathrine Bolger Hyde discussing her new novel where a Brontës murder mystery party turns into a real murder
By Gabrielle Pantera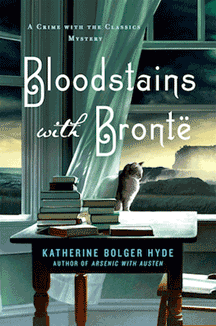 "For the last twelve years I've spent a week every summer at a writing retreat in Rockaway Beach," says Bloodstains with Bronte author Kathrine Bolger Hyde. "A fictionalized version of that town seemed like the perfect setting for a mystery series. With the tiny permanent population, who would all know each other well, plus the transient holiday people, who would provide plenty of options for killers and victims. Also, the weather there can get pretty wild in the colder months. That seemed perfect for a book based on the Brontës."
The book opens as Emily and Katie host a murder mystery dinner on Halloween night to benefit the local clinic. Emily Cavanaugh inherited Windy Corner on the wildly beautiful Oregon coast in the first book in the series, Arsenic with Austin. Emily is remodeling, preparing to host writer's retreats. Sheriff Luke Richards is the love of Emily's life.
Emily's housekeeper Katie is a young single mother. The murder mystery dinner turns into a real murder mystery when Katie is found standing over a body with a bloody knife in her hand. Emily doesn't believe Katie killed anyone, although the sheriff does. To save Katie, Emily must find the real killer. All through the book Emily is reading books by the Brontës.
"The inspiration for the Crime with the Classics series as a whole came through a combination of factors," says Hyde. "A big one was the setting on the Oregon coast. As for the specifics of this book, I started out by thinking about the themes, mood, and characters that are common to all the Brontë sisters' books and tried to come up with parallel elements for my story. I wanted it to be somewhat dark and brooding, with a lot of wild passion in the air to match the violence of the weather."
Bloodstains with Bronte is the second book in a series that inhabits a different classic author in each book. The series titles proceed alphabetically, first Austen then Bronte. Hyde wants to use women authors as much as possible.
"The Brontës were a natural choice," says Hyde. "I've always loved their work and been fascinated by them as people. In fact, it was reading a biography of Charlotte Brontë that inspired me to pull my old dream of writing novels off the shelf, after years of working and child-rearing, and finally get started. Charlotte's dedication and perseverance in the face of nearly overwhelming obstacles helped me believe that I could overcome the much smaller obstacles in my own life."
Hyde's favorite Brontë novel is Jane Eyre. "It's a groundbreaking book in terms of its heroine, a woman who appears conventionally meek and mild on the surface but underneath is independent, strong-minded, and determined to make a better life for herself. I also love the fact that she has strong principles that she won't sacrifice, even for the sake of an overpowering love. And the scene where Jane hears Mr. Rochester calling to her across the many miles that divide them is one of the most powerful in all literature. It gives me shivers just to think about it."
Besides the Classics series, Hydes has two picture books: Lucia, Saint of Light, Ancient Faith Publishing, 2009, and Everything Tells Us about God, AFP, 2018. Her children's fantasy novel The Dome-Singer of Falenda is currently out of print.
Hyde is currently writing a dark, standalone mystery about an abused wife. Hyde has written three unpublished mainstream contemporary novels. Two of them, The Vestibule of Heaven and The Ghostwriter, two of which she intends to self-publish in 2018.
Hyde lives in Santa Cruz County, California. She was born in New Jersey and has lived in almost every region of the U.S.
Hyde's website is kbhyde.com, and she's active on Facebook as "Katherine Bolger Hyde, writer."
Bloodstains with Brontë: A Crime with the Classics Mystery by Katherine Bolger Hyde. Series: Crime with the Classics (Book 2), Hardcover: 288 pages, Publisher: Minotaur Books (December 12, 2017), Language: English, ISBN: 9781250065483 $24.99