Meet Amy Pickard originally from Dayton, Ohio who lived in London for 7 years and moved to LA in 2000 to pursue a career in radio and television.
Was there a particular reason you chose LA?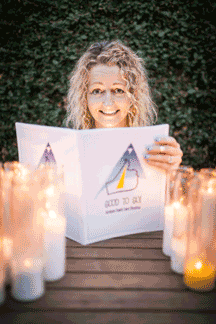 My English friend was about to go on tour with Elvis Costello and asked me to housesit for him in the Valley. I had just moved back to America from living in the UK, I was crashing at my mom's in Chicago in winter and thought sunny LA sounded like a dream!  Once I got here, I loved it so much, I haven't left for 17 years!
What  do you miss most from the UK?
I have deep, soul connections to my UK friends and miss them terribly.  I also miss prawn crackers and the British sense of humour! (I put in the 'u' just for Brits in LA.)
What was your first impression of LA and has it changed since? 
My first impression was that people drive like maniacs here and no, it hasn't changed, I've just become one of them!  Left on red? No problem! I also couldn't believe that it was sunny the majority of the time.  I still can't believe it! I'm definitely solar powered.
What do you find the biggest difference is living here versus London? 
An ease of spirit. There is an open, relaxing, optimistic, chilled vibe here and I find it quite the opposite in London.
Do you have a hidden gem in LA that you want to share with us?
When my Brit pals arrive, I always take them out to Joshua Tree (two hours outside of LA) to visit the Mojave desert.  It always blows their minds that something so desolate and peaceful can exist so close to LA. It's one of my favorite things about living here!
What would you suggest to others who are thinking about making the move here?
One of my favorite British expressions is 'Suck it and see.' I encourage everyone to give LA a try!  I would say that whatever you are looking for, you will be able to find it in LA.  Whether it's the showbiz culture, an indie music scene, creative communities or jobs behind the scenes in entertainment, you will be able to find it. LA isn't just Rodeo Drive and movie stars.
Lots of our members join our group Brits in LA seeking out words of wisdom – what is the best piece of advice you've been given? 
I can't pinpoint anything specific, but on the whole, Brits in LA has been an incredibly helpful resource!  The information about visas, jobs, insurance, rental cars, sublets, airfare deals to London, etc… has been invaluable.  I was a member from the early days (before Facebook!) and I loved (and used) all the information on Brit-centric cultural events around LA. Whenever a British pal of mine is thinking of coming over to LA, I always refer them to Brits in LA!
Lastly, how can we find out more about you ? Are you working on anything at the moment?
I changed careers from freelancing for TV and Radio (worked for the BBC) to creating an unconventional advance planning company called Good To Go! I'm trying to change the cultural narrative on how we view death preparedness, dying and the aftermath, by having a party! I guide people through their advance planning paperwork with a sense of humor and a rock and roll death themed soundtrack while they are young and healthy! (and for Brits living away from their families in the UK, advance planning is crucial if something should happen to you.  Would your family know information about your apartment, bills and online accounts, banking info, etc…?) I'd love to get some Brits in LA Good To Go! It's important to leave behind love rather than logistics.
Facebook: www.facebook.com/goodtogopeace
I go live for "Grievers and Groovers" on the Good to Go Facebook page every Wednesday at 4:30pm PT/7:30pm PT/12:30am GMT. You can also find us on Instagram and Twitter @goodtogopeace or visit our website goodtogopeace.org.