Exclusive interview with author Jim Gaynor discussing his poetry translation of an Austen classic
by Gabrielle Pantera 
"In my work as a poet, I've long been fascinated by memorable opening and closing lines in classic novels," says Jane Austen's Pride and Prejudice in 61 Haiku author Jim Gaynor. "I believe that the sentences we often know by heart are, in fact, short, unacknowledged poems that get lost in the sentences, paragraphs and chapters that follow. It is my hope that readers will find themselves smiling knowingly from time to time as they travel in this redesigned Japanese vehicle across Austen's familiar English landscape."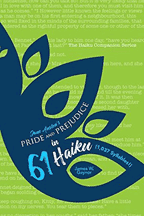 The opening line of Austen's Pride and Prejudice is, "It is a truth universally acknowledged, that a single man in possession of a good fortune, must be in want of a wife." Jane Austen starts each of her chapters with a provocative line. There are 61 of them. Classic Japanese haiku, a type of poetry, is 17 syllables. Can Gaynor reveal the hidden poet in Jane Austen?
"I soon realized that the first line's fame has, in a way, cast a shadow over all the other chapters' first lines," says Gaynor. "I began to wonder if the 61 chapter-opening lines of Pride and Prejudice could, in fact, be the basis for a series of haiku. If each sentence was a kind of short poem, why couldn't it be translated into that short, classic form of Japanese poetry? There is something wonderful and powerful in the format."
"In the book, I replaced the haiku's traditional duality of emotion with an ironic twist conveyed by the narrator, challenging the usual seriousness of literary criticism," says Gaynor.
Thus the opening of Chapter 1 (Hunting Season): "It is a truth universally acknowledged, that a
single man in possession of a good fortune, must be in want of a wife," becomes the following haiku:
Everyone knows — all
rich unmarried men need wives —
It's universal.
"It wasn't until I looked at all the 'when' answers throughout the novel that I understood that the book begins and ends in hunting season," says Gaynor. "Mr. Bingley arrives at Michaelmas [September 29th] in search of birds to shoot, but he and Mr. Darcy are the real game. And the book ends, once again at the start of hunting season, with three of the sisters married."
"When I started analyzing the beginning of Chapter 56, I saw something I had never before seen," says Gaynor. "Until I paid attention to the 'where' of the chapter's opening line, I had never fully appreciated that Lady Catherine's enormous carriage, powered by four horses carrying a groom, a driver, Lady Catherine and probably her daughter, arrives at Longbourn and drives up the lawn. Not the drive, but the lawn. The damage to the turf must have been extensive, and more than likely took out a Bennet chicken or two, but of no concern to Lady C."
Gaynor also wrote Everything Becomes a Poem. He won the 2017 American Graphic Design Award. He was an editor at Grosset & Dunlap, Cuisine magazine, Scriptwriter News and Forbes Publications. His book reviews, poems and essays have appeared in The New York Observer, OTVmagazine.com, The Gay and Lesbian Review Worldwide, and Peeking Cat Poetry Magazine.
He lived in Paris for years, teaching a course on Emily Dickinson at the University of Paris. He studied the development of the psychological novel in 17th century France. He graduated from Kenyon College. Gaynor recently retired as the Global Verbal Identity Leader for Ernst & Young LLP.
Gaynor publishes a daily haiku (#HabitualHaiku), drawn from current newspaper headlines. He's the creator of Can You Haiku? a corporate communications workshop based on using 17th-century Japanese poetry techniques to improve effective use of today's digital platforms.
Gaynor's next book, Insert Poem Here: A Memoir with Poetry, releases in September 2018. He's currently working on a haiku translation of The Maxims of La Rochfoucauld and a Gilded Age murder mystery.
James W. Gaynor is a native New Yorker. His website is jameswgaynor.com. He's active on Facebook, Twitter and Instagram.
Jane Austen's Pride and Prejudice in 61 Haiku (1,037 Syllables!) by James W. Gaynor Paperback: 208 pages, Publisher: Nemeton Press (October 1, 2017), Language: English, ISBN: 9780997842838 $12.95