'Real men don't wear shoulder pads' is said by many a Brit when referring to American Football.
Well this week you have a chance to see for yourself and compare it fairly. As not only does the Six Nations Rugby Tournament begin but it is also Superbowl Sunday this weekend!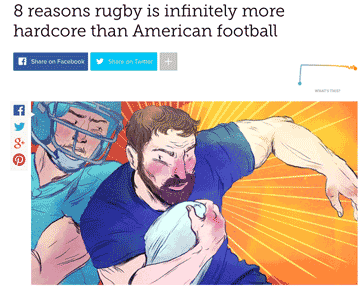 This is a huge event for the U.S.,  I think it is partially due to the fact that it is a good excuse to eat your bodyweight in hot dogs, nachos and fried chicken. This year it's the New England Patriots vs. Philadelphia Eagles, kick off is at 3.30pm (LA time). Justin Timberlake has the coveted halftime slot and has promised there will be no wardrobe malfunctions during this performance. Even if you are not a football fan you may as well join in the festivities as it will probably be quite difficult to avoid it. There will be plenty of BBQ's and viewing parties at bars all over town. I have picked out a few that I think most of you will enjoy. If you are in Studio City you can go to British pub The Fox & Hounds, West Hollywood residents can head over to Rock & Reillys (and also at their DTLA location). A little further east the Cat & Fiddle will also be showing the game, and for those closer to the beach tere is always the upscale option of The Bungalow, located inside the grounds of the Fairmont Miramar Hotel in Santa Monica, which has a big screen set up on the patio and will be serving the requisite chili dogs and hot wings. And of course longtime British haunt Ye Olde Kings Head is also a good bet – they'll be serving drinks at Happy Hour Prices throughout the game. For those with children who are down in Westchester or Playa Vista consider The Proud Bird Food Bazaar over by the airport – they are offering an 'All You Can Eat Food Bazaar' which includes Bludso's BBQ, Pizza, Burgers, Salads, Chicken & Waffles, Chicken Wings, Hot Dogs and Nachos!
Adults: $29.95 | Children (5-12): $19.95
For those of you on the Eastside; Highland Park Bowl on Figueroa. Reservations recommended.
If you want to watch the Rugby amongst fellow fans, you also have plenty of places to choose from. A lot of our members like the Springbok Bar in Van Nuys which claims to be the number one bar for Rugby in the USA. Ye Olde Kings Head will also be showing all of the matches and have just posted the viewing schedule on their Facebook page. I had a quick look on Yelp for you and their top pick is the Red Lion Tavern – a German bar in Silverlake.
If, like me you would rather skip it you might find you are better off staying at home, as I think football fever will flood the city on Sunday. Or make yourself useful and offer you baby-sitting services to an American parent.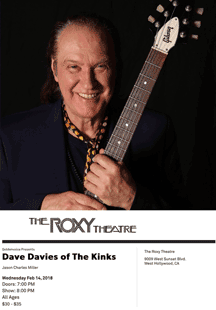 On second thoughts, it might be a great day to go to the beach as I imagine it will be fairly quiet, as there is no place to plug in a tv….
There is still time to enter our competition to win a pair of tickets to see Dave Davies of the Kinks at the Roxy (show is on February 14th), so email us at britsinla@gmail.com if you fancy your chances.
If you want to come along and meet some of the Brits in LA community in person we have both our Breakfast Club and Pub Quiz every Tuesday. We usually have at least 40 people attend so it is a great chance to meet new people. Everyone is welcome and lots of people come along alone, so don't let 'having no one to go with' be your excuse!
If you have any suggestions or questions drop us a line at info@britsin.la
Cheers!
Eileen