Cheryl if you're reading this (and we know you are) LOOK AWAY NOW!
Former Girls Aloud star Cheryl Tweedy's long-term partner Liam Payne and sexy singer Rita Ora could be in HOT water after they got a bit too close for the first live performance of their new Fifty Shades track.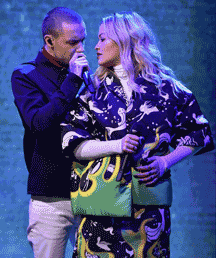 The pair could have been mistaken for a couple in love as they took to the stage and performed For You on The Tonight Show and it's fair to say they turned up the heat.
Oo-la-la, Ri-ta!
Dressed in a patterned lime green and black skirt and matching jacket, Rita belted out the lyrics to the duet alongside the former One Direction singer.
Liam – who is in a long-term relationship with singer Cheryl – then approached Rita on the stage, before placing his hand on her arm and moving in behind her.
Temperatures shot up as the pair got closer, with it almost looking as they were about to kiss towards the end of the duet.
"For You" is the lead song on the soundtrack to Fifty Shades Freed, which will hit cinemas in the around the world next month.
Rita, who stars in the erotic movie as Christian Grey's younger sister Mia, has headed to America with Liam to promote it.
Before their appearance on The Tonight Show, she tweeted: "About to be on @FallonTonight!! Tune in!!! 11:35 on @nbc watch me and @LiamPayne perform #ForYou for the first time!!"
Liam, meanwhile, told his fans: "Don't forget to watch @fallontonight! I'm performing #ForYou with @Rita Ora for the first time!!"
He also shared a black and white photograph, taken during rehearsals before the live show was broadcast.
Rita and Liam unveiled the steamy video for For You last week and it sees the pair serenading each other in the grounds of New York's Oheka Castle.
Rita kicks off the video by running around the palace's idyllic gardens in a gorgeous red gown, before we're introduced to a lovesick Liam moping around his castle bedroom.
"Breathe me in, feeling your kiss on me. Lips are made of ecstasy, I'll be yours for a thousand lives," he sings as he sits with his head in his hands.
Rita can also be seen lying in a bed of roses.
While Liam and Rita have been given the honor of creating Fifty Shades Freed's lead track, the soundtrack boasts an impressive 22 songs.
Huge stars including Sia, Ellie Goulding and Dua Lipa also feature on the compilation album.
Fifty Shades Freed will be released in time for Valentine's Day – on February 9.
Can't say I'm that excited about this one…