Hoorah! Spice Girls fans all over the world rejoiced when the famous five-piece came together at Geri Horner's home last Friday afternoon.
Oo-er!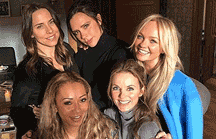 And on Monday, Emma Bunton opened up about their shock reunion, teasing that there's lots "exciting things to come" for the ladies. Emma admitted that they had to make last-minute plans, opting to meet at Geri's house in Hertfordshire rather than somewhere in central London.
In a recent interview Emma divulged: "At first, actually, it was supposed to be at a hotel. But the morning of the meeting there was quite a lot of press speculation and we thought 'Oh, maybe we need to go somewhere a bit more private.' Geri's was the nearest so we were like, 'We're coming to yours!'"
The mum-of-two confessed that it was a "lovely afternoon" of catching up, saying: "Obviously, we've seen each other individually, but actually all together in one room was at the Olympics. It was just like, Friday, we thought we would all catch up, everyone was in town, let's do this, let's catch up."
She added: "But I don't think any of us were expecting, we had such a lovely afternoon. We sat down, we had lunch together, we sat round."
The girl group – Emma, Victoria Beckham, Mel B and Mel C – propelled to worldwide fame in the nineties, and sold more than 31 million copies of the debut album, Spice. They released their debut single Wannabe in 1996 and last year celebrated two decades in the spotlight.
Elaborating further about their reunion, Emma continued: "We reminisced about the old times, we were talking about the kids, and it was lovely. And then we all sat around Geri's table and we got takeaway in, got sushi and some salads and drank tea and a little bit of prosecco, and it was just so lovely to see everyone. I loved it, really good fun."
Earlier this week ginger Geri revealed she had all but given up on a band reunion after plans for an anniversary tour in 2016 stalled.
Ginger Spice, who hosted the top-secret get together where she and her bandmates reportedly thrashed out plans for a tour and other business ventures with their old manager Simon Fuller.
And she still can't believe Fuller pulled off the shock reunion, almost six years after the Spice Girls last performed together at the closing ceremony of the 2012 Olympics in London.
Geri told The Sun she felt sure any hope of a tour was dashed when plans to hit the road to celebrate the 20th anniversary of the release of Wannabe, the group's breakout single, fell apart.
"We all pushed for it, like, 'Come on, let's try and make it happen'. It didn't," she tells the tabloid. "You get to a point where you go, 'Do you know what, just let it go…' And I was having a baby. I'd really sort of let it go."
Geri turned to a career as a British TV personality, but now the Spice Girls reunion is all she's thinking about: "When it finally came together the other day, we all came and sat around and went, 'Maybe we should do something'. And we all agreed.
"It was really nice to reflect on the past. Then we looked at the new generation as well and thought, 'We should think about them. That's important to us'."
And even though she was the first one to quit the band in the late 1990s, Geri insists she has never fallen out with her bandmates: "Regardless of whether we were in a band singing together, I still want to know that they're happy and well and support them individually or collectively. I really do care about them.
"We've had so many amazing memories. Whatever we decide to do, however it unfolds, it will be something joyful and very connective."
Reports suggest the Spice Girls are close to finalizing details for a tour of Britain and America, which will begin at the end of the summer.
I'm looking forward to this one, I for one will be front row and center!