Exclusive interview with Sarah Sundin, discussing her new novel, a WW2 romance between an American naval officer and a British Wren
Review By Gabrielle Pantera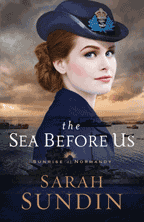 SARAH SUNDIN'S latest novel, The Sea Before Us, is an absorbing tale of a wartime love affair between American officer Wyatt Paxton and British Wren Dorothy Fairfax. In a recent interview Sundin told us how her love of Britain started young.
"I was one of those teenagers who woke up in the middle of the night to watch Charles and Diana's wedding," says Sundin. "I'm a lifelong Anglophile. Raised on British books and movies. British history has depth and breadth lacking in U.S. history. That legacy appeals to me."
"In The Sea Before Us, I played with these historical differences…..While exploring town, Dorothy comments on the new buildings, and Wyatt realizes they're older than anything in his hometown in Texas."
Lt Wyatt Paxton is an American naval officer in 1944 London working on the Allied invasion of France. Dorothy Fairfax is in the Women's Royal Naval Service. Using family photos, she is piecing together a map of Normandy. Wyatt's plan is to use the map to pick targets to bomb on D-day. As they work together they become friends. Will Wyatt's plans destroy Dorothy's family estate?
"When I was doing research on the US Navy in World War II for my Waves of Freedom series, I read about the naval aspect of D-day," says Sundin. "I was fascinated by the daring actions of the U.S. destroyers off Omaha Beach. The Sunrise at Normandy series tells of three estranged brothers who fight on D-day from the sea, the air, and the ground. In The Sea Before Us, I was able to put my hero, Wyatt Paxton, on one of those destroyers and also have him involved with D-day planning in London, where he works with my heroine, Dorothy Fairfax."
All of Sundin's novels are set during World War II. She has researched the naval aspects and planning of D-day, the Women's Royal Naval Service, and life in Britain during World War II. On a trip to England and Normandy she toured Southwick House, Adm. Sir Bertram Ramsay's Allied Naval Headquarters for D-day, the location where Gen. Dwight Eisenhower made his famous decision to launch the invasion on June 6th, 1944.
The Sea Before Us is the first book in Sundin's fourth series. Her Wings of Glory series is about B-17 bomber pilots based in England. Wings of the Nightingale is flight nurses in the Mediterranean. Wave of Freedom is U.S. naval officers based in Boston fighting in the Battle of the Atlantic. Her novels Through Waters Deep and When Tides Turn were named to Booklist's 101 Best Romance Novels of the Last 10 Years. Through Waters Deep won and INSPY award and was a Carol Award finalist.
Sundin recently finished writing her second book in the Sunrise at Normandy series. The Sky Above Us follows a P-51 fighter pilot and a Red Cross volunteer. Sundin is starting the third book in the series, The Land Beneath Us.
Sundin is based in Antioch, in the San Francisco Bay Area. Her website is www.sarahsundin.com and she is active on Facebook and Twitter..
Sea Before Us by Sarah Sundin. Hardcover: 386 pages. Publisher: Revell (February 6, 2018). Language: English. ISBN: 9780800734879 $25.99